The second of two ships that have been specially designed to transport offshore wind farm components is nearing completion at a Dutch shipyard. Like its sister ship, the 'Rotra Vente' which was launched earlier this Year the 'Rotra Mare' has been converted from a container vessel into a heavy lift ro-ro ship that will operate primarily on North Sea routes.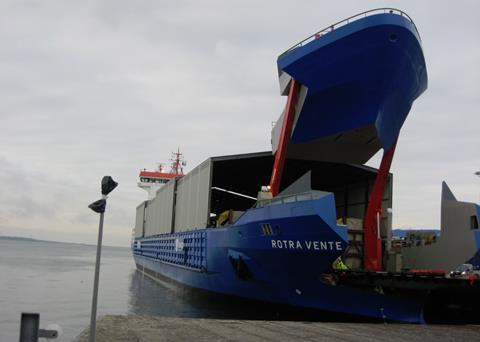 Both ships have been commissioned by the Concordia Group and the ships will operate for carrying cargoes for mainly from Siemens facilities.
Siemens will use both ships mainly in the North Sea area for the transportation of mast, nacelles and rotor blades for wind turbines. The two vessels have been specifically designed for the job with the bow of the ships converted into a ro-ro loading ramp and the extensive cargo deck covered by a specially designed detachable roof which protects the precious cargo on the vessel from sea water and weather conditions. This roof can slide away allowing cargo to be lifted on and off by crane as an alternative to ro-ro loading and discharge.
The two sister ships are 141 metres long with a 20 metre beam. Remarkable are the specially developed lifting bow and the extendable ro-ro ramp. Both of these features are controlled by hydraulic systems and in order to allow for high cargoes to be loaded, the entire bow section of the ships is lifted up and aft by the hydraulics to allow good clearances. It is claimed that the ro-ro loading feature leads to a more cost effective operation.
Together with the Concordia Group, the work on converting these ships was carried out by Holland Shipyards who designed and carried out the work on the first vessel, the Rotra Vente in just 10 months. The base vessels used for the conversion were the existing hulls of container ships and by opting for the conversion of an existing vessel it took two vessels out of the container ship market thus reducing overcapacity in this sector.
In addition to having the new lifting bow and the extending ramp both vessels are equipped with the latest technology. This includes a fully autonomous ballasting and deballasting installation to compensate for a load coming on board or being discharged. The propulsion of the ship has been upgraded to match the hull form and required performance criteria in order to acchieve the maximum fuel efficiency.
The two ships will operate mainly between Siemen's turbine construction sites at Hull in the UK and Cuxhaven in Germany to Esjberg in Denmark as well as serving other assembly sites in the Baltic. The Rotra Mare is expected to be in service early in 2017.
By Dag Pike