Furuno and WASSP have teamed up to offer the new W3P Wireless Multibeam Sonar.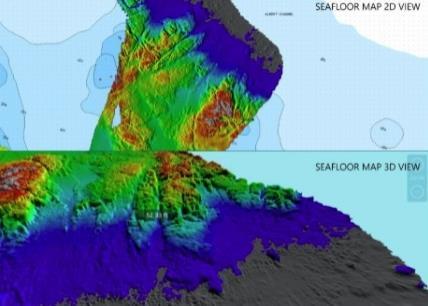 Using real-time 3D seafloor mapping, the new W3P offers updated WASSP multibeam features in a compact and portable single housing with wireless communication between tender and mothership. W3P provides the convenience of a complete "all in one" system, allowing the technology to be quickly and easily deployed on a wide range of vessels and applications while delivering the high-quality mapping data of the original W3 fixed-mount system.
The WMBG3W3 "Wireless WASSP" enables tenders to map the bottom ahead of the mothership with the bathymetric image appearing on both vessels simultaneously. This merger of cutting-edge wireless technologies with WASSP W3's peerless mapping capabilities meets the demand for a portable mapping solution suitable for existing tenders. The W3P solution includes a transducer, processor, transmitter, position sensors, WiFi, and a convenient bracket-mounted pole in a self-contained and easily deployed package. W3P requires only a power connection to provides real-time 3D bathymetry mapping of the seafloor, which can be transmitted wirelessly from the tender to a mothership at distances up to 2 nautical miles.
"These new W3P solutions offer unparalleled navigation security to an ever-expanding range of customers," said WASSP Product Manager, Nick Fogarty. "Feedback from our customers and dealers demonstrated the need for an all-in-one solution that was simple to set up and use across a variety of vessels. The ability to install the product and start mapping remote destinations safely in a matter of minutes was our goal, and we have achieved that."
WASSP Multibeam was developed by ENL Group in New Zealand. Founded in 1945, ENL is a subsidiary of Furuno Electric Company and has a strong R&D focus in the field of Multibeam Sonar.
By Jake Frith