A 332 m long sheet pile wall was nearing completion in the German Baltic seaport of Wismar in March as the foundation of a quay for big ships on the outer rim of a new €31 million multi-functional terminal.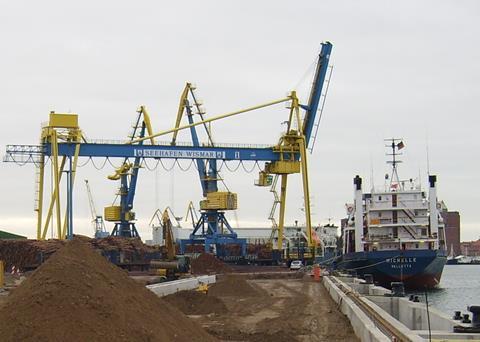 In a bid to meet demand and create new overseas business for the former GDR port, midway between rivals Lübeck in the west and Rostock in the east, some 260 piles were being driven on the new quay, located 80 m from the existing shoreline .
Project head Knut Merz said the piles were 28m long, 1.4m wide and weighed 8-9 tons apiece. Pile driving started last autumn and was scheduled for completion in March. The port authority –Seehafen Wismar – told Maritime Journal however work was still underway in early March and that an exact date for completion was not known.
Once in place, the area behind the new quay edge is being filled in and land reclaimed to create a 41,500 m2 multi-functional site with two berths, rail access and links to the German road network. From the end of 2018 ships up to 294m long will call at the new terminal. Currently ships up to 240m can tie up at 15 berths in Wismar, which also boasts 2,500m of quaysides and 23.4kms of rail track.
Hydraulic steel construction and floating dredge work are at the forefront of project contruction, Wismar said. A consortium grouping one of Germany's best known civil engineering companies, Ed Züblin AG, and specialist German hydraulic engineering concern Colcrete von Essen is handling the job along with other contract firms.
The costs of the new terminal are put at €31 million of which €21.9 million are being found by the coastal state of Mecklenburg-Vorpommern - in which the Port of Wismar is located.
Wismar mayor Thomas Beyer said the project would "significantly strengthen the port's competitive position". Only by having the new terminal could the port hope to win customers abroad, retain current business and stay abreast of its competitors, he stressed.
In a parallel development, the state of Mecklenburg-Vorpommern, the German Government in Berlin and Wismar have pledged to consider funding a €35 million plan to deepen the approach channel to Wismar Port from 9.5m to 11.5m.
There is now a pressing need for deepening following the surprise acquisition last year by Malaysia's Genting of Nordic Yards and the creation of the new MV Werften shipyard group headquartered in Wismar.
Genting has announced ambitious plans to build giant ocean-going and inland river cruise ships in Wismar as well as at the other member yards of the group in Stralsund and Warnemünde. Floating out will presumably be a major requirement at all three locations in future.
By Tom Todd