Construction work is starting soon on a three-year €35.6 million project to expand and modernise the German Baltic seaport of Wismar.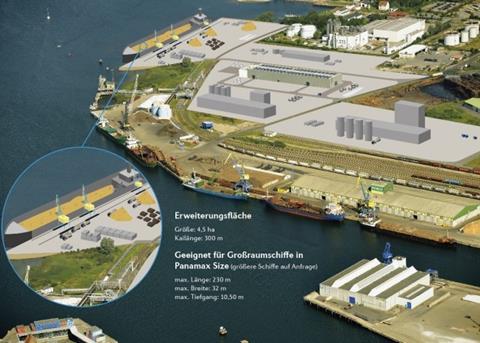 The project includes the construction of a new 332m quayside and the creation of 41,500 m2 of additional fill-in port handling areas along with new rail track and access roads. Port chief Michael Kremp said work was getting underway in October and was expected to be completed by mid 2018.
Funding of the project has just been approved by the City of Wismar, which owns 90% of the port, and the German coastal state of Mecklenburg-Vorpommern (MV) which owns the other 10%. The Berlin Government and MV are together putting up €23.5 million of the cost while the port itself is paying the remaining €12.1 million.
Reporting "very satisfactory" handling in the first half of this year, Kremp said the latest investment was an important step for the future of the port, which handles some 4 million tons of cargo annually.
The second most prominent seaport on the eastern German Baltic coastline after Rostock, Wismar covers 66 hectares and boasts 2,500m of quays, 15 berths and 27 kms of own rail track, Ships of up to 240m length drawing maximum 8.5m can access the port.
Visiting MV First Minister Erwin Sellering said the port was important for the whole state as an industrial location and pointed to new quayside offshore wind farm supply links as well as traditional timber trades.
During his visit Sellering also discussed another major marine engineering project for Wismar - the deepening of the port's approach channel. Plans are to deepen from 9.5m to 11.5m and he said he would push for the realisation of the project.
The importance of deepening was pointed up just recently when a 185m long cargo ship loading salt in Wismar for the US could only take on 22,000 tons instead of a possible 35,000 tons because of channel depth.
Part of ongoing equipment expansion in the Port of Wismar is the addition in August of four new mobile port cranes from Finland's Mantsinen. Two are 120R tracked units with an outreach of up to 27m. The others are of 70m and 90m outreach. The port said their introduction meant more flexible and efficient utilisation of existing ship-handling berths and space. The cranes' modern and efficient diesel engines also reduce fuel consumption and thus emissions.
The port of Wismar emerged from relative obscurity after German unification in 1990 and has developed steadily since then. It has seen its handling rise along with its regional economic significance as part of a shipping and transport chain between Scandinavia and the Baltic in the north and Austria, Italy and the Mediterranean in the south.
By Tom Todd