Two new ferries with advanced propulsion systems and excellent 'green' credentials have been placed in operation on the Woolwich ferry that links the north and south banks of the River Thames writes Dag Pike.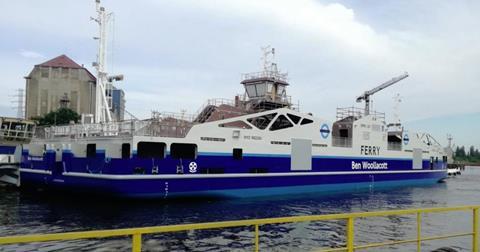 These 60 metre double ended ferries have a beam of 18.8 metres which provides space for about 45 vehicles. The ferries have separate access for foot passengers and facilities for the disabled and for cyclists and they can also accommodate trucks. The service currently carries around 2 million passengers every year.
This crossing is subject to the considerable tidal flow on the Thames which can run up to 4 knots at times and with two ferries replacing the previous three there has been a strong focus on a high redundancy level for the machinery as well as good manoeuvring capabilities to ensure a reliable service. Work has also been carried out on the shore terminals to accommodate the capabilities of the new ferries.
The ferries were designed by LMG Marin who were responsible for the detail design of the new battery-hybrid ferries. LMG Marin's scope of work for this project included the basic design whilst Keel Marine provided technical support on this project for Briggs Marine Contractors, who operate the ferry service on behalf of TFL.
The ferries feature a hybrid diesel-electric propulsion system with the power supplied by a pair of Cummins generators. These charge the lithium-ion battery pack which in turn supplies power to the 300 hp vertically mounted electric motors that power the four Hydromaster propulsion units that provide excellent manoeuvrability. It is anticipated that there will be significant fuel savings as one generator running at constant load can supply all power requirements. Fuel savings of more than 15% are expected compared to a conventional propulsion solution and the addition of a selective catalytic reduction system, diesel particle systems and the use of ultra low sulphur diesel fuel will considerably reduce emissions.
The shore terminals will be arranged with an automatic magnetic mooring supplied by Mampaey so that the power to the thruster units can be reduced to zero when the vessel is in the berth which will also significantly reduce the fuel consumption and emissions. The new ferries were built at the Rementowa Shipyard in Poland.