The three ferries that currently operate the Woolwich Ferry service across the River Thames, UK are 53 years old and are now reaching the end of their useful life.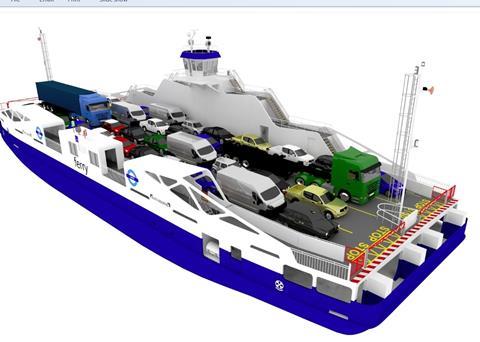 Transport for London (TFL) which is responsible for this ferry service has decided to fund replacements and a contract has been signed with Rementowa Shipyard in Poland for the construction of the replacement ferries. These new ferries will be significantly different to the existing ferries with the emphasis on 'green' operations and reduced emissions.
Norwegian design team LMG Marin will be responsible for the detail design of the new battery-hybrid ferries following a 9 month tender process. LMG Marin's scope of work for this project includes the basic design whilst Keel Marine Ltd will be providing technical support on this project for Briggs Marine Contractors, who operate the ferry service on behalf of TFL.
The two vessels, with a capacity of 150 passengers and about 45 vehicles, will be designed with several energy saving innovative solutions. Delivery of the ferries is scheduled for 2018 and they will feature a hybrid diesel-electric propulsion system. The lithium-ion battery pack will allow for significant fuel savings by optimizing the fuel consumption, allowing one engine to run at constant load charging the batteries when now powering the propulsion. This solution alone will lead for fuel savings of more than 15% compared to a conventional modern propulsion solution, and also lead to CO2 and NOx emissions reduction. Emissions will be reduced by use of selective catalytic reduction systems (SCR), diesel particle systems (DPF) and the use of ultra low sulphur diesel fuel. Additional energy saving will come from the use of LED lighting.
The shore terminals will be arranged with a system that allows for automatic mooring so that the power to the thruster units can be reduced to zero when the vessel is in the berth which will also significantly reduce the fuel consumption and emissions. For propulsion the ferries will be fitted with a Hydromaster azimuthing drive unit on each corner. These will be powered by an NES supplied electric motor vertically mounted and the controls will comprise two combined throttle and azimuthing levers, one controlling the bow units and one for the stern.
These 60 metre double ended ferries will have separate access for foot passengers and facilities for the disabled and for cyclists. The service currently carries around 2 million passengers every year This crossing is subject to a considerable tidal flow on the Thames which can run up to 4 knots at times. With two ferries replacing the current three there has been a strong focus on a high redundancy level for the machinery as well as good manoeuvring capabilities. Work will be carried out on the shore terminals to accommodate the capabilities of the new ferries.
By Dag Pike