Work has begun in Cuxhaven on the construction of a new €36 million handling terminal on the Elbe which officials have said is part of "urgently needed" business expansion at the German port.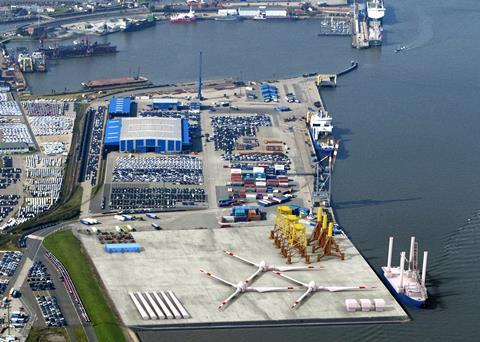 For completion in 2017 the new facility will ease pressure on the adjacent multi-purpose Cuxport terminal and its three berths which officials said have been operating at full capacity for years. Construction has been made possible by a deal in February between port operator Cuxport and NPorts (Niedersachsen Ports) and all of the cost is being put up by the German state of Lower Saxony.
The new terminal, due to be completed in just 21 months, will be of 85,000 m2 and boast a new Berth 4 - 240m long on deep Elbe water and be capable of handling ships drawing 14.5m. Like its neighbour it will be multi-purpose and handle a wide range of commodities.
The terminal site is being reclaimed by NPorts on the banks of the river Elbe and the necessary infrastructure is being created using lateral bank reinforcements and the quay wall. Construction is in the hands of a consortium grouping Bilfinger Marine & Offshore Systems in Hamburg, Tiefbau Unterweser in Oldenburg and Nordsee Nassbagger and Tiefbau in Bremen.
Cuxport's Dörte Schmitz told Maritime Journal 7,000 m3 of deck and surface material were being created and that more than a million m3 of sand were being backfilled behind a new 33m deep quay wall with anchor piles 60m deep. Some 4,600 m3 of reinforced concrete were being brought in for the quaywall surface and 42,000 tons of stones for the embankment
Holger Banik, Managing Director of Niedersachsen Ports said previous development had shown that "especially in Cuxhaven, we are able to create port infrastructure reliably and in a short amount of time. The framework conditions are right, everything is prepared".
Cuxport will operate the new terminal and provide superstructures, paving the area and installing drainage, lighting and the required technical equipment and investing a further sum of about €10 million.
Cuxport's MD Hans-Peter Zint said operation depended on the port's multi-purpose strategy. "With this urgently needed expansion, we will enable further growth for our customers and strengthen Cuxhaven's position as an important hub for maritime supply chains and the offshore wind industry", he said.
Some years ago Cuxhaven, at the mouth of the Elbe Estuary just downstream from Hamburg, was pipped at the post by Wilhelmshaven and the new JadeWeser Port as the site of Germany's first deep-water container terminal. Since then multi-purpose development has been swift at the port with offshore components a leading business. Siemens decided last August to site a manufacturing facility for offshore wind turbines in Cuxhaven, creating over 1,000 jobs.
By Tom Todd