A Dutch boat builder that already offers a wide range of smaller aluminium workboats has now added the first electric powered version into their range writes Dag Pike.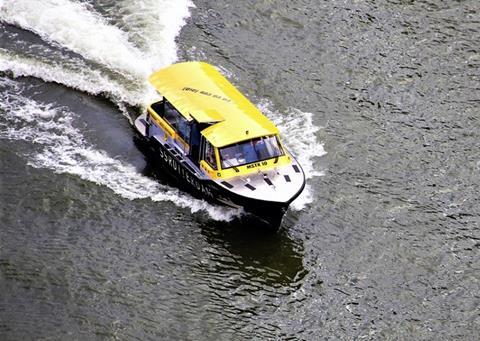 The FiveFifty from Alumax is a small open boat which makes a good point to start off the company's electrical journey. With 1065kW batteries powering a 2.5kW electric motor, this 5.7 metre long boat has a duration of 16 hours, which is a good day's work when operating in support of dredging or marine construction operations.
Like all of the Alumax workboats, the FiveFifty is constructed in aluminium which the company feels is a good material to cope with the rigours of commercial operations as well as keeping the weight down. With this initial venture into electric propulsion the experience gained is likely to extend to offering electric versions of their larger workboats.
The Alumax Worker is the largest in the range at 10 metres in length and this workboat is available as a hybrid with a combination of diesel and electric power. One was built for the Scheveningen Port Company which was powered by a 170hp Yanmar diesel engine combined with a Krautler 11Kw electric motor. This is a heavy duty workboat fitted with a large forward wheelhouse with both an internal and external control station. The same hull is also offered as an open version with a forward control station and push knees.
Perhaps the star of the Alumax range is their water taxi, a fleet of which operate on the River Maas in Rotterdam. These 10 metre boats constructed in aluminium have replaced GRP craft and they operate for 3500 hours every year. Powered by a single 420hp Cummins diesel engine these planing boats operate throughout the port area.
Whilst many operators requirements can be met with boats from the comany's standard range of designs, the yard also builds one-off designs such as aluminium hulled fishing boats and most designs can be modified to meet individual requirements. An addition to the range is a MOB boat designed to meet IMO regulations. This boat comes in two sizes, 4 metres and 4.7 metres and is outboard powered.