The prototype for a new series of eco-friendly workboats is under build for delivery next year to German shipping and waterway authorities, writes Tom Todd.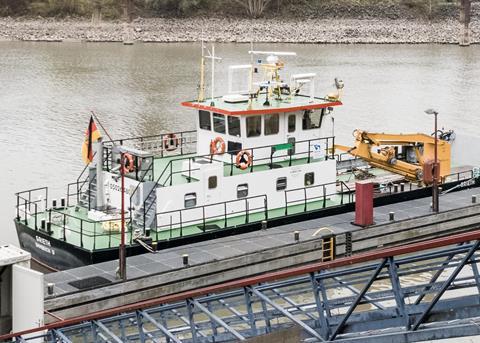 The 31 x 7m wide boat is being built at specialist small builder Schiffswerft Bolle in Derben for the Shipping and Waterways Administration (WSV) in Bonn and is expected to be delivered ready for operation in 2020. Costing about €5 million it draws 0.95-1.1m and has a speed of 16kms/h.
It will be an improved and modified version of six similar boats operating along the Rhine - Germany's main sea-inland shipping artery. The newbuild will concentrate the knowledge and experience gained over years with those boats, the WSV said.
The prototype will specifically replace the multi-purpose 25.5m Grieth which was introduced in 1991 as the first of four boats capable of a wide range of duties on the busy Central Rhine. Its workload includes wreck and obstacle recovery, the setting of fixed and floating shipping notification markers and their maintenance and repair.
TheWSV said the new boat from Bolle will reflect modern ecology concerns and also what it calls the extensive practical experience and technical knowledge gained from the operation of the earlier boats. That is reflected in the improved design of the deck house and equipment such as crane plant and landing ramp, it said.
The propulsion system is based on two 300kW Volvo Penta generator-diesel engines Type D13 and the boat is also equipped with emission control technology from Fischer Abgastechnik in Emsdetten and synchronised generators and electric motors from Baumüller which specialises in hybrid drive diesel engine concepts.
The new boat also boasts a Schottel SRP 100 rudder propeller and a Kalkman Epsilon 122 bow thruster for positioning. Both propulsion system and equipment are designed and chosen by the WSV to suit the demanding Central Rhine conditions in which the newbuild will operate and which include free-flowing water and changing currents.
Concern for ship safety and hazard operations on the Rhine appears to be increasing and is not surprising. The river is Europe's biggest international shipping artery, linking the North Sea with the Netherlands, Germany, France and Switzerland, and ship and lock accidents already regularly cause costly disruptions on another major German shipping artery – the Kiel Canal.