Currently under construction at the Fassmer Shipyard in Berne, on behalf of the German Federal Maritime and Hydrographic Agency (Bundesamt für Seeschifffahrt und Hydrographie, BSH), Atair II will be the world''s first government-owned research vessel to be powered by liquefied natural gas (LNG).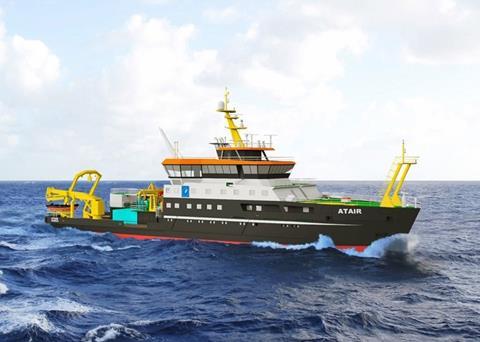 The 74m monohull platform will replace the current Atair which entered service in 1987.
Scheduled to be operational from 2020, Atair II will conduct hydrographic surveys and wreck searches, as well as marine environmental observations in the North and Baltic Seas. She will also be involved in the testing of navigation and radar equipment.
With a beam of approximately 17m and draught of 5m, the dual-fuel propelled vessel will be the largest in the BSH fleet and provide accommodation for 18 crew and 15 research personnel. Atair II has been designed to have a negligible impact on the marine environment, offer ideal conditions for on-board scientific work and is expected to receive the DNV GL SILENT class notation SILENT R.
The 200m² work deck will accommodate a range of equipment and systems, including laboratories, an air pollution measurement station, a working crane and a scrollbar for seabed geology investigations. It will also house oceanographic winches, deck handling systems, containers, a diving chamber and other associated research-support equipment.
The vessel will be equipped with a Kongsberg hydrographic survey suite, including single and multibeam echo sounders, sidescan sonar and a sub-bottom profiler. The integrated package will also comprise a dynamic positioning (DP) system, position reference systems, integrated bridge solutions, maritime broadband radio and marine CCTV systems, launch and recovery systems, propulsion and thruster control, as well as navigation and ship automation systems.
By Helen Atkinson