Netherlands based Royal IHC has won a contract for the design, build and delivery of the 44,189kW self propelled cutter suction dredger ''Spartacus'' for Belgian giant DEME Group.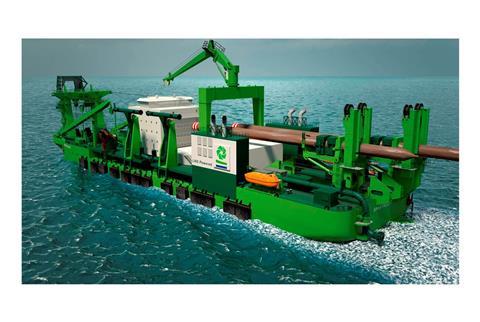 The concept and design for the 164m long mega-cutter was done in close cooperation between DEME, IHC, and Vuyk Engineering Rotterdam, a 100% owned subsidiary of IHC.
Spartacus will be the world's first LNG powered cutter suction dredger, following orders for the first LNG powered trailing suction hopper dredgers Minerva and Scheldt River as well as the 'LNG-ready' Bonny River, currently under construction at IHC shipyards.
"We can state that this CSD is the largest and most complex that IHC has ever built, says IHC CEO Dave Vander Heyde. 'The combination of power, size and innovations makes it a true challenge to build."
"We are proud and honoured that DEME has again placed their trust in us. We also want to thank them for giving us the opportunity to build the world's first LNG powered cutter suction dredger."
The vessel's four main engines will run on LNG, MDO and HFO, while the two auxiliary engines have dual-fuel technology. The application of LNG to power TSHDs has proven a complex puzzle but close cooperation between builder and owner has found a way to make all the pieces fit. The building of Spartacus will benefit from the established joint effort.
The environmentally friendly CSD will have other innovations on board, such a waste heat recovery system which converts heat from the exhaust gases into electrical energy. Dredge control is arranged for one man operation and the vessel's heavy duty cutter ladder will be capable of working to a depth of 45m.
"This cutter suction dredger is going to be an important benchmark for the industry and a huge step toward limiting the environmental impact of our vessels", says DEME's head of construction and conversion Jan Gabriel.
By Larz Bourne