Crane manufacturer Huisman is involved in construction of the world's largest ring bearings at its Chinese production plant.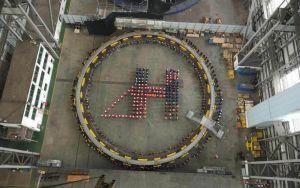 No less than 30m across, these are destined for the two enormous 10,000 tonne capacity tub cranes that are going to be installed on Heerema's new semisubmersible vessel Sleipnir.

The first of the pair of bearings has just been finished, the second just underway. Interestingly, these bearings are going to be segmented in order to allow for inspection of the rollers without completely disassembling these mammoth cranes.

This bearing construction is Huisman's hallmark: the company made the point that it saves weight over traditional bogies or wheels.
By Stevie Knight