Damen Shipyards Group has delivered five Damen 2306 E3 electrically propelled ferries to Arriva Denmark in Copenhagen.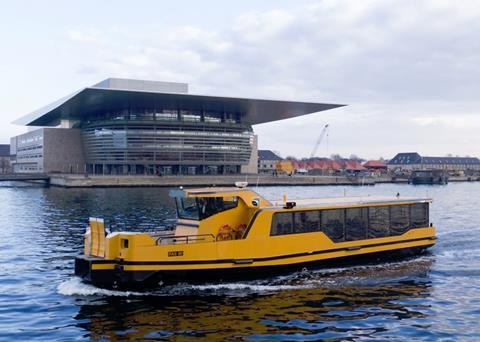 The ferries make significant strides towards a zero emission service, reducing Copenhagen's public transport NOX emissions by 2.5%, CO2 emissions by 10% and particulate emissions by 66%.
The ferries are prepared for remote monitoring. Informed by a network of sensors incorporated into the vessel, Damen's remote monitoring department is able to set up a dashboard tracking such things as sailing patterns, battery lifecycle and swell dynamics. This allows fine-tuning of the operation towards greater efficiency and reduced downtime for maintenance.
For this project Damen has undertaken its role as integrator, or complete solution provider. This has involved, for example investigating shore solutions for electricity supply.
Working closely together with Echandia Marine, Heliox and Staubli, Damen developed a solution that takes just seven minutes to charge the ferries at the end of each trip they make. The charging solution features an innovative auto-mooring system to ensure a secure connection between the vessel and charging infrastructure.
By Jake Frith