This recently launched electric litter and debris collector vessel will emit zero emissions as it cleans up ports, harbours or waterways.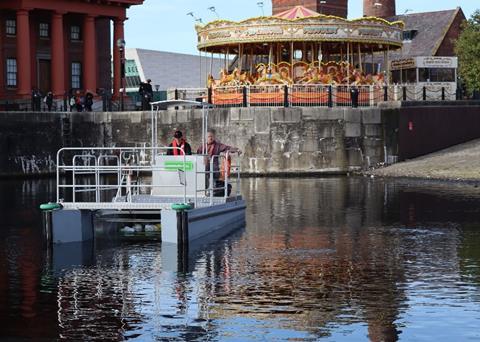 Fighting ocean plastic pollution and cleaning up our waterways is big news and a British company has launched what it believes is the world's first zero emission litter and debris collection vessel.
Liverpool-based Water Witch has been building pollution control workboats for this purpose for decades, but its newest innovation means that for the first time waterway maintenance and debris retrieval can be zero-emission as well as cost-effective. This has been made possible by the rapid improvement in electric boat drives over the past few years, which now give the range and durability required for this type of work.
Jackie Caddick, Director at Water Witch, said that "we have been working to integrate electric propulsion for some time, but the breakthrough was the reliability and range of the Torqeedo system. We are passionate about the environment, and we see this technology as a critical step towards being carbon-neutral in our efforts to keep plastic pollution from entering our oceans and landing on our beaches."
The company has a reputation for innovation in this sector, with a number of 'world—firsts' since they launched in the 1960s, and for this launch have teamed up with Torqeedo, who are themselves at the forefront of electric boat drive technology. The propulsion system for the boat consists of the Torqeedo Cruise 10 outboard motor, two Torqeedo Power 48 lithium-ion batteries and cockpit control panel that gives the operator an at-a-glance view of system status, including range at current speed.
The outboard configuration of this system allows Water Witch to offer it as a direct replacement to their standard four stroke engine power option. Performance increases in battery technology, with 70% lower volume and weight than comparable batteries, mean that trim and stability is not affected and overall vessel weight is kept low for easy shipping and trailering.
Although the Versi-Cat's main function is retrieving plastic litter, debris and aquatic vegetation, the design also includes a range of 'pods' that sit between the hulls. It is extremely adaptable for a huge range of applications for Port and Harbour operators, ranging from fast response pollution control needs, to mobile pump out and general maintenance support. According the Jackie, the potential for this system to make a real environmental impact is huge. She said that "this is a green, safe, zero-emission solution with long life, low maintenance and minimal operating costs. It's a real game-changer for Port and Harbour operators looking to keep their waterspace, clean, attractive and safe."