Babcock International, the Aerospace and Defence company, has completed a package of work on Pacific Egret, a vessel dedicated to industrial transportation at its Rosyth facility.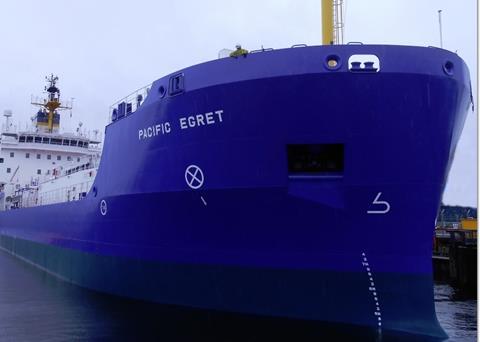 Pacific Egret, operated by Pacific Nuclear Transport Ltd and managed by Serco, arrived into the Rosyth facility for the first time earlier this month to undergo routine tank inspections, work on its propulsion system, hull painting, and other general refit activities.
The Rosyth site is home to one of the largest waterside manufacturing and repair facilities in the UK and, over the last few years, Babcock has worked with Serco to repair and maintain the NorthLink passenger transport ferries, which run lifeline services between mainland Scotland and the Northern Isles of Orkney and Shetland. With substantial investment, the site has transformed into one of the UK's most modern maritime support facilities, making it an ideal location to support specialist vessels like Pacific Egret.
The 40-strong team followed UK Government guidance on managing the risk of COVID-19 to ensure the safety and wellbeing of the team and the ship's crew. Skilled trades such as mechanical fitters, welders, slingers, fabricators and project personnel completed the repair and maintenance of Pacific Egret from the Rosyth site.
Work continues with the customer to support Pacific Egret's sister ship Pacific Grebe. The vessel arrived into the Rosyth facility at the end of August for a similar work package.
By Jake Frith