An innovative modular floating scaffolding system was used at COP26 to build a sunken protest pontoon for The Climate Coalition.
The ScaffFloat pontoon was mobilised at short notice and installed with the help of local Approved Installer, i-Scaff, who are one of Scotland's largest independent specialist scaffold contractors.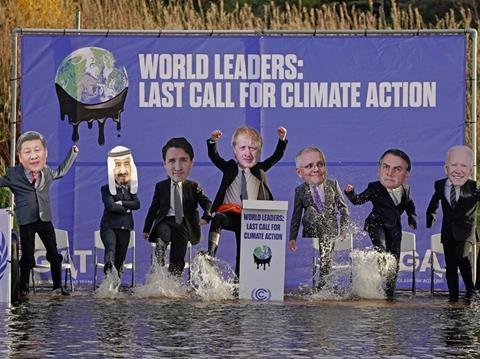 For the press photo, an 8m x 4m scaffold platform was sunk just below the water's surface, and supported by a set of plastic ScaffFloats on deck. This gives the impression of a 'flooded' floor which the charity utilised for a creative photo showing world leaders meeting on a flooded stage.
Ross Brown, MD at i-Scaff said ''We love helping our customers find innovative solutions to their problems, and this has been a great example of the sort of work we can do. We worked in partnership with the ScaffFloat team who did all the design, project management, RAMS and on water safety, whilst we supplied the scaffold and an experienced scaffolder to help with the build.''
Toby Budd, MD at ScaffFloat added ''This is such a great example of how we add value. Initially the client only wanted a floating pontoon with a banner, then we suggested we sink the pontoon to create this great photo opportunity. We knew the objective was press coverage so worked hard to give them a photo that would get traction in the world's media - and within an hour it was on BBC News, Glasgow Daily Times and Sky News to name but a few.''