French shipbuilder Piriou has purchased former Romanian subcontractor ATG, establishing Piriou ATG Romania as a 100% group subsidiary.
ATG shipyard is located in Giurgiu, 60km south of Bucarest-Romania. Initially exclusively dedicated to building vessels for inland waterway shipping, ATG has gradually broadened its scope in building hulls and vessels for the offshore cargo transport, harbour workboat and fishing industries.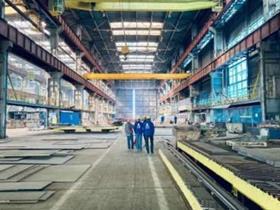 Vincent Faujour, Piriou Group said: "We are very happy and proud to involve ATG shipyard and its 300 employees inside the Piriou group. This shipyard we have been working with as a subcontractor in the past years enjoys a very good local and international reputation. We will rely on the management team we have already reinforced and carry on with the development of the site which offers great potential.
In taking over ATG, the Piriou group workforce increases to 1300 employees including 550 in France. Piriou is now established in Asia (Vietnam), Africa (Nigeria, Algeria, Morocco, Senegal), in the Indian Ocean (La Réunion) and Europe (mainland France, Romania). Moreover, the group intends to continue expanding internationally.
Piriou ATG Romania is located inside the free zone of Giurgiu, on the Romanian shore of the Danube, and also owns a concession in the harbour of Constantza – on the Black Sea.
Giurgiu shipyard is located on 15Ha of land and can boast 30000m² of workshops. Four 110m assembly halls communicate via a transfer area with a 110m x 3000t lifting capacity synchrolift. This synchrolift overlooks a well-protected dock with direct access to the Danube. The ship outfitting quay is nearly 250m long.