For those of us who read (or write) updates in MJ about UXO (Unexploded ordinance) route surveys, and wonder what would actually happen if an old bomb ever got pulled up, the Marine Accident Investigation Branch (MAIB) has some illuminating answers.
The UK marine safety body has just released its report on the investigation of a subsea explosion in 2020 resulting in crew injuries and damage to the crab potting vessel Galwad-Y-Mor (BRD 116), 22 nautical miles north of Cromer, Norfolk, on the 15 December 2020.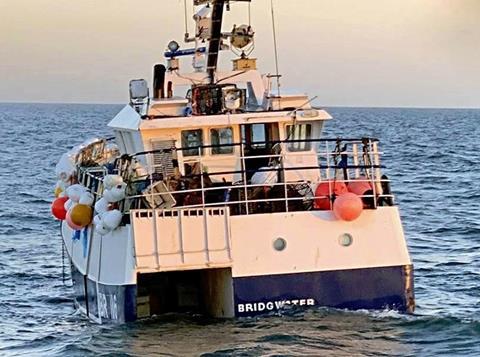 At 11.22 on 15 December 2020, the 15m vessel was hauling pots in the North Sea approximately 22 miles north-east of Cromer. The crabbing gear disturbed a 250kg unexploded WWII bomb, which detonated on the seabed below the vessel.
The ensuing explosion caused a shock wave that threw Galwad-Y-Mor about, resulting in significant injuries to five of the seven crew and major damage to the vessel's hull and machinery. Despite their injuries, Galwad-Y-Mor's crew were able to send a distress message, launch the liferaft, and board rescue boats that had been dispatched by a nearby offshore support vessel. The injured crew were transferred to hospital by helicopter and RNLI lifeboat. They were treated for head, back and knee injuries. Galwad-Y-Mor was successfully salvaged and has been rebuilt.
The key safety issues identified were:
• Unexploded ordnance (UXO) can be highly volatile even after many years of being submersed. In the event of encountering a UXO, seafarers are advised to follow the recommendations in MGN 323 (M+F) Explosives Picked Up At Sea.
• Galwad-Y-Mor's crew could not have anticipated the fouling of a bomb in the potting string and the resulting explosion; their training, experience and emergency preparedness improved their chances of survival.
Read the full report at https://www.gov.uk/government/news/galwad-y-mor-report-published