Devon-based Teignbridge Propellers is staying at the forefront of precision engineering with recent additions to its toolbox.
The pace of change has certainly sped up in the past couple of years, says Teignbridge Propellers group managing director Mark Phare, who when asked a few years ago if there was anything new in the marine propulsion industry would generally reply – well, not a lot really.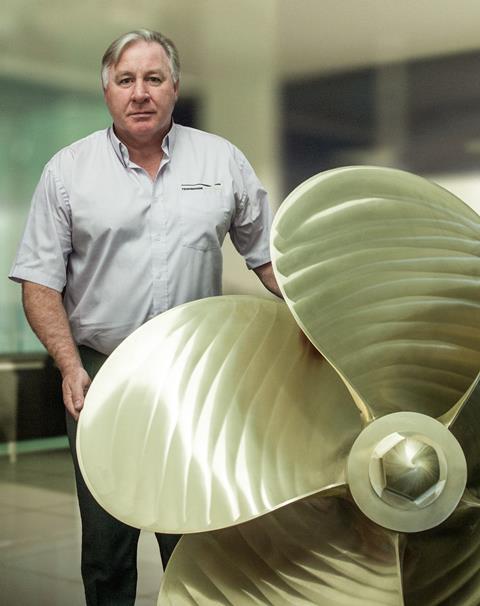 "In the past couple of years however a great deal has changed," he says. "Computing power – such as computational fluid dynamics (CFD) – have become much more accessible, more powerful, lower cost and therefore are more prevalent within leading propulsion companies."
The new swathe of digital technologies is something industry leaders are having to get up to speed with or get left behind – and this is why Devon, England-based Teignbridge Propellers has dug deep in recent months to bring £1.6 million (€1.8 million) of new equipment on board.
What's new in the tool shed
"The Mazak mill is by far the most expensive, largest and most revolutionary machine we've ever bought," says Phare.
It's a 60-tonne machine, cost a cool £1 million (€1.1 million) and has revolutionised the way propeller manufacturing can be done – not just by avoiding the hours-long manual polishing work, but also by doing it with 100% accuracy.
"Our Mazak can machine the whole of the propeller including the blade surfaces to an accuracy of the thickness of a human hair. These propellers 100% faithfully reflect our intricate designs and are guaranteed to be vibration free.
"It's extremely hard, difficult work to handle a grinder for eight hours a day and it needs someone who has physical strength and can read a technical drawing at the same time. It's getting harder and harder to find people who can do that, and generally young people don't see it as a career."
So impressed with the new Mazak mill is the company, which says it will easily double capacity, that Teignbridge is already planning the purchase of a second one.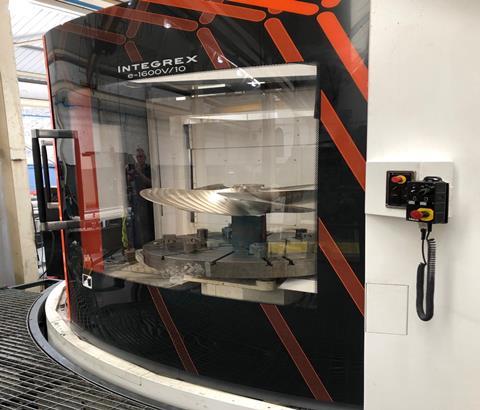 The second biggest spend has been on a £350,000 (€400,000) CNC Sunfirm lathe (320mm), for larger shafts, which has an automated tool-changing function. This means the machinist can set it up and it will undertake all operations without manually changing tooling, thus helping facilitate dual manning and the efficiencies that then follow.
The lathe replaced an XYZ lathe, which has now been sent to the company's Indian factory and increased capacity there. And finally a new CNC Doosan lathe (160mm) also with multi-tool changer, a mere snip at £250,000, has been added to the toolbox.
"The benefit to the shipyard with all this investment is if we're more efficient we can control costs," says Phare. "A manual machinist is limited in flexibility, he has to stand there for the whole cycle time and can't operate other machines.
"Because we continually invest in new CNC machines, our engineers can run two or three at the same time. There is a huge cost saving to the business and our customers, as well as significant accuracy gains."
Foils and twisted rudders
As well as the changes brought about by computer sciences, Phare points to two other changes in propulsion technology.
Although foiling technology has been around for decades, new ventures such as lifting the entire hull out of the water are gaining ground.
"We are actively involved with a number of companies working on this technology," says Phare, but he can't say more than that because of NDAs.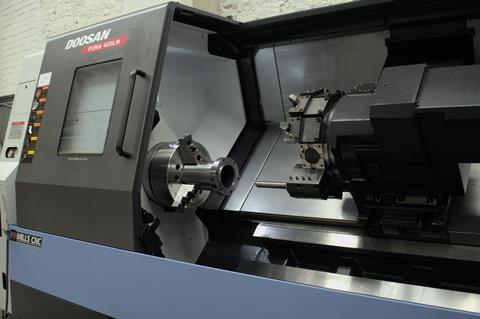 "We are also working with a well-known defence contractor on how to make vessels operate with the lowest noise signature possible, and we've been developing an ultra, ultra-quiet propeller design – not just with the profile and surface finish, but with anti-noise coatings – a whole range of things, for the UK and EU Navies." Again, that's all he can say.
Another recent development is the velocity-aligned rudder (VAR), sometimes known as a twisted rudder, which matches the shape of the rudder blade to the propeller vortex, which means it incurs less resistance.
There are also innovations with P brackets, which match the velocity of the incoming flow to the propeller, thus increasing propeller efficiency. For maximum efficiency gains the bracket, propeller and rudder have to be designed as a package so that they complement each other.
"We've supplied a number of these systems to boat builders and they're typically seeing a 1kn improvement in speed and a 5% or greater fuel efficiency gains," he says.
£3 million legacy
Teignbridge is still benefiting from a £3 million investment from the UK government through the Energies Technology Institute (ETI), which was commissioned to reduce vessel carbon footprint of the UK fleet by 8%.
The investment meant Teignbridge built its own test vessel (HRV1) and uses CFD to test and refine propeller designs. The real-world testing telemetry, which included torque meters combined with CFD simulation and design optimisation software, means that Teignbridge has a unique arsenal of tools to design, test and validate the industry's best propeller designs.
"The ETI project is over but we've got a highly qualified and experienced team and hi-tech tools as a legacy, so if a customer wants a state-of-the-art propeller design using industry-leading tools, we can design it to a level that was previously impossible," he says.
So today when asked is there anything new in propulsion design, Phare can confidently reply yes, Teignbridge has a range of products and services that could only have been dreamt of 10 years ago.