Design and engineering consultancy, Houlder, is supporting Subsea Micropiles, a foundations company.
Subsea Micropiles is leading the adaption of land-based micropiling technology to create superior marine foundation and anchor solutions. Houlder is providing marine operations and engineering support to accelerate market development and the deployment of Subsea Micropiles' technology.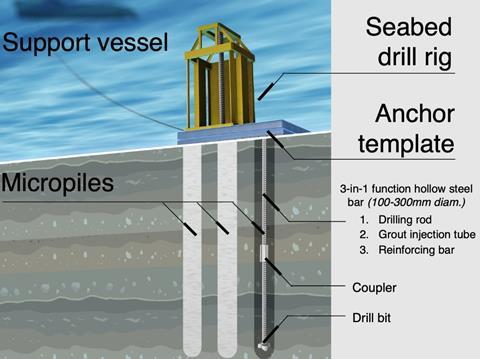 Innovative foundation technology is essential to reducing costs and environmental impact as the offshore wind industry expands and tackles increasingly difficult seabed conditions. Subsea Micropiles will use a new robotic seabed drilling system to install and grout micropile anchor foundations. Mimicking the root piles of trees, the design is capable of withstanding significant axial and horizontal loads with a stable and consistent connection point.
Micropiling has grown to become a widely used foundation and anchoring solution for onshore infrastructure since the 1950s, as a proven low-noise and low-impact approach to soil interventions.
Advances in underwater robotics are enabling micropiling for offshore piling and anchoring, which has the potential to disrupt the renewable energy industry and benefit the wider offshore sector.
Houlder has a strong track record in supplying marine equipment and engineering expertise to a range of clients in the offshore wind sector globally including; Van Ord, Jan De Nul, Saipem, Eon, MPI Offshore, GeoSea, Boskalis, Siemens Gamesa, Seajacks, Seaway 7.