Belgian construction major Herbosch-Kiere NV and its British subsidiary Herbosch-Kiere Ltd have recently been awarded a contract for the renewal of Thunderer Jetty on the Thames in Dagenham (near London, UK).
The jetty is owned by the international organisation Stolthaven Terminals, which is making significant investments in modernization of the jetty and the terminal. The project will start in January 2022 and will take over a year and a half to complete.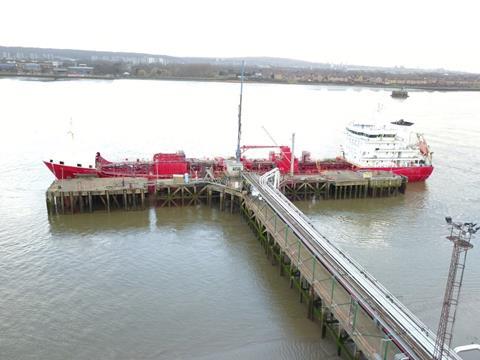 Thunderer Jetty was originally built in the early 1900s and is operated today by Stolthaven Terminals. Smaller refurbishments were previously undertaken to adapt the jetty to the changing needs of shipping, but this time a thorough and complete renewal has been chosen. New mooring structures, scaffolding platforms and access bridges are being built, along with the installation of new pipe-racks, piping and electromechanical equipment. The works have to be carried out in various complex phases as the terminal must remain operational throughout the project. To bring the project to a successful conclusion, Herbosch-Kiere will call on its own extensive fleet of vessels and equipment and the expertise of its staff.
In recent years, Herbosch-Kiere NV has successfully constructed several similar jetties within the port of Antwerp, and the experience they have gained there, will now be applied in the United Kingdom.
Bas Verheul, Asset Management Director Stolthaven Terminals said: "Upgrading our historic jetty is a significant milestone for Stolthaven Dagenham. After significant modernizations and expansion onshore, this is a crucial next step in our program to make Stolthaven Dagenham the most respected terminal in the UK. We are happy to able to work with an experienced contractor in a collaborative approach, keeping operational disruptions to an absolute minimum.