The high speed catamaran passenger ferry MOLSLINJEN Express 1, built by Incat Tasmania in Australia, operates between Ystad, Sweden and Rönne, Denmark. Like most fast ferries, it is powered by large water jets. In general, water jets are efficient at high speeds while redirecting the flow to steer the ferry costs energy.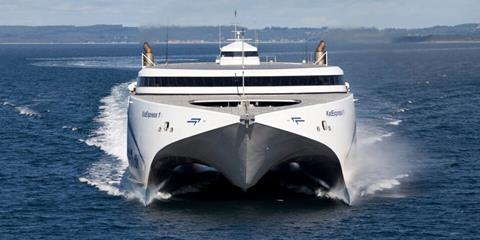 At Rönne harbor, there is limited space between the piers when entering. The solution to improve the ferry's steering performance was found at Swedish Humphree in Gothenburg and steering interceptors that provide additional maneuverability, efficient steering and improved course keeping which reduces the distance travelled between destinations.
When the Humphree system keeps the course stable at speed, passenger comfort on board increases. At the same time the CO2 savings are estimated to more than 1 000 tons per year, equaling an installation of solar panels on two football pitches in Scandinavia.