Leading civil engineering specialists Land & Water has completed two of three projects to reduce local flood risks and improve the environment carried out for Somerset Rivers Authority on the Somerset Levels.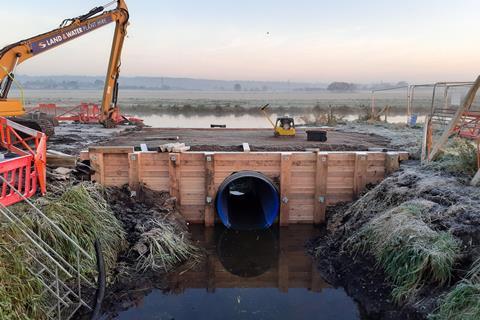 The works at Egypt's Clyse on Othery Rhyne and on the Moorlinch and Westmoor Raised Water Level Areas are part of Somerset Rivers Authority's overarching plan to enhance the River Sowy-King's Sedgemoor Drain (KSD) system.
Enabling this system to carry more floodwater will help to protect 150 square miles, whilst upgrading many water control features boosts habitats of international ecological importance.
Sowy-KSD works are being delivered for Somerset Rivers Authority by the Environment Agency, partly using Growth Deal Funding from the Heart of the South West Local Enterprise Partnership.
Cllr David Hall, Chair of Somerset Rivers Authority (SRA), said: "The projects at Egypt's Clyse, Moorlinch and Westmoor have involved around 100 separate pieces of work. They've included the installation of new culverts, tilting weirs, headwalls and walkways, and the fitting of trench sheet dams and earth bunds with non-return valves to stop water coming back. Siphons have been jetted and lots of new protective fencing put up.
"Careful attention has been paid to small details. For example, two tilting weirs have been lowered because they were 20 centimetres too high and therefore simply didn't work very well. Together, all these improvements will help SRA partners to better control local flood risks. They'll also benefit farmers and wildlife because they allow for better management of water levels at some special places."
Of particular importance is the work at Egypt's Clyse, the water control structure that sits at the confluence of Othery Rhyne and King's Sedgemoor Drain. Othery Rhyne connects Langacre Rhyne, which runs alongside the River Sowy as a flood relief channel for the River Parrett, and King's Sedgemoor Drain. Othery Rhyne is used by the Environment Agency to move water between the Langacre and King's Sedgemoor Drain, for flood (and drought) control and for agricultural and environmental benefits. A strong twin-walled culvert has replaced a crushed and sinking mess of corrugated iron, and protective steel trench sheets now stand in place of temporary timber piles.
John Rowlands, of the Environment Agency, said: "Egypt's Clyse is a very under-rated structure. It plays a really important role in the vastly complicated system of water management on the Levels, because it helps us move water from a wide area from place to place. The improvements here are good news for local homeowners, businesses, farmers and wildlife."
Fiona Moore, Divisional Business Manager at Land & Water, says: "As Land & Water continues to prepare and protect the UK's waterways against future flood risks, it is vital that the culvert at Egypt's Clyse is functioning at full capacity to allow for ongoing water management that continues to support the environmentally sensitive area and its range of wildlife habitats."
Enhancements to the main channels of the Sowy and King's Sedgemoor Drain are currently expected August to October 2021.