In 2014 LK Valves & Controls took the decision to invest an initial £100k+ in a stock of Japanese Industrial Standard (JIS) valves. The decision was taken to satisfy the demand for immediate repair requirements for the ever-increasing amount of ships built in the Far East that now operate in and around UK waters.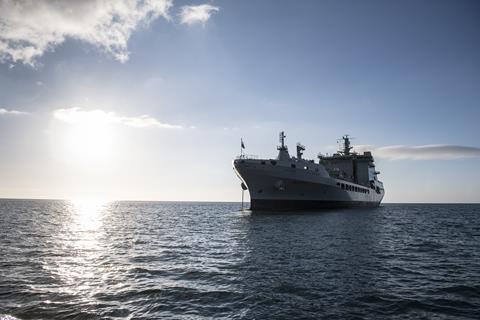 A good example of such ships are the RFA Tide Class tankers. The above image shows the RFA Tidespring arriving in UK waters. This vessel, the first of four 'Tide Class' fast fleet tankers built in South Korea, was delivered to the UK in 2017 to enhance the Royal Navy's maritime capabilities. The remaining three sister ships, named Tiderace, Tidesurge and Tideforce, followed at six month intervals after delivery of the lead vessel.
Most ships built in Europe use valves manufactured to DIN standard, however ships built in the Far East are built with valves to Japanese Industrial Standards (JIS). DIN standard valves are readily available throughout Europe whilst JIS valves are less so.
Colin Evans co-owner and director of LK Valves & Controls said "The company's decision to stock Japanese Industrial Standard valves in the UK was an easy one. The company directors recognised the growing need within the marine sector to service and maintain the ever-increasing number of ships built in the Far East visiting our shores from further afield and operating in and around UK waters. The demand for JIS valves in the UK is set to increase further with the arrival of the Royal Fleet Auxiliary Tide Class vessels.".
LK Valves & Controls now have a wide range of JIS5K, JIS10K, JIS16K and JIS20K valves and slip-on and blind flanges held in their Liverpool warehouse available for immediate despatch. The stock profile includes JIS gate valves, globe valves, angle valves, check valve, storm valves, butterfly valves, 'fire hydrant' or hose valves, quick closing valves and tank vent check valves. The JIS valves stocked are available in gunmetal, cast iron, ductile iron and carbon steel.
All carbon steel, ductile iron and gunmetal JIS valves are available with 3.1 material certificates from a Lloyds approved foundry and are suitable for Classification Society witness testing when required.
Six years on and this 'forward thinking' investment has paid dividends. The initial stock profile has increased allowing LK Valves & Controls to satisfy the demand for these valves in the UK. The company is committed to continue to invest in JIS valves in order to assist with the medium and long term maintenance of ships such as the RFA Tide Class vessels.
For more information, ex-stock and short lead time supply, please contact one of LK Valves & Controls experienced team.