The London-based Environmental Investigation Agency (EIA) claims that The International Maritime Organisation (IMO) is dragging its heels over marine plastic pollution caused by vessels.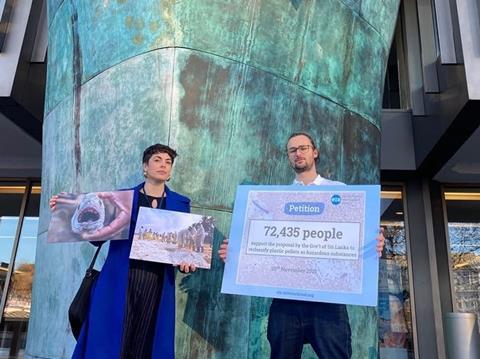 It is also claimed that The IMO actually stifled debate on the issue, which is well within its remit and ignored an 80,000-signature petition demanding action gathered by the London-based Agency.
The Sri Lankan Government, EIA and other NGOs were calling for toxic plastic pellets, a common cargo in ships travelling international waters, to be classified as hazardous materials following the world's single largest toxic plastic pollution spill.
On 20 May 2021, the Singapore-flagged cargo ship X-Press Pearl spilt 1,680 tonnes of plastic pellets, 9,700 tonnes of other plastics and toxic pollutants nine miles off the Sri Lankan coast. With plastic accumulating on beaches in piles up to two metres high, it is the worst marine environmental disaster the country has faced and the clean-up is still ongoing
The IMO's Marine Environment Protection Committee (MEPC), chaired by Japanese civil servant Hideaki Saito, met in London in November 2021 but allowed the delegate from Sri Lanka, Dharshani Lahandapura, just two short minutes to address fellow delegates on her country's concerns and the demands for an urgent and tangible response on how the IMO plans to address future shipping disasters of this nature, before she was abruptly cut off.
Representatives of EIA who were also present at the meeting were not given an opportunity to speak.
EIA Deputy Ocean Campaign Leader, Christina Dixon, who was at the meeting, said: "The attitude of the Committee members was extraordinary and showed a callous disregard for plastic pollution from ships as a threat to coastal communities, ecosystems and food security. This is simply unacceptable and what's worse is that those countries which bear the most severe impact of it are not being heard."
The London-based IMO has recognised the importance of the prevention of accidental and deliberate garbage from ships since legislation in the early 1970s and in 2018 adopted an 'Action Plan to Address Marine Plastic Litter from Ships'.
But EIA says the specialist UN agency has since dragged its heels, exacerbated by the COVID-19 pandemic. It is widely recognised that plastic pollution has significant ecological, social and economic impacts, with marine plastic pollution alone costing the world economy up to $2.5 trillion a year. Plastic pellets, also known as nurdles, are a type of plastic pollution and constitute the second largest source of primary microplastic emissions into the oceans. 
"Pellets are found on almost every coastline ever surveyed and, with growing evidence that they act as toxic sponges eaten by a wide range of marine life, they are still currently not characterised as persistent, hazardous pollutants. Stricter classification would mean pellets are managed at sea akin to other hazardous or harmful substances, such as flammable liquids and corrosive substances." Dixon said. 
The EIA petition can be viewed at Change.org.