At the Port of Hamburg the final stage of the fairway adjustment has been authorized, enabling vessels to transit the Elbe with more cargo.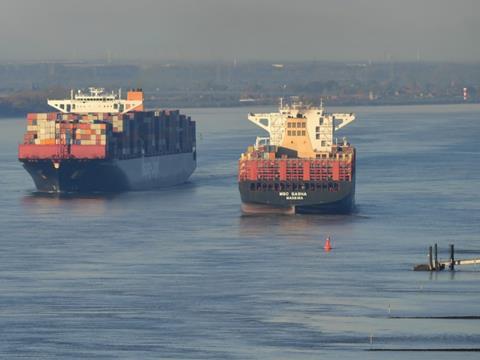 Release of the second stage came on 24 January 2022. This represented achievement of the project target of enabling containerships with a draft of up to 13.50 metres to reach the Port of Hamburg irrespective of the tide. At certain states of tide, even greater drafts are possible.
Inbound and outbound shipping now gains from a draft increase of between 1.00 and 1.90 metres. Irrespective of the tide, Megamax vessels with a width of up to 62.5 metres and a length of 400 metres can now move about the port with a draft of up to 13.10 metres. A favourable tide makes 15.40 metres possible.
"We are delighted that following years of intensive planning, completion of the mega-project 'fairway adjustment' has been accomplished. Above all, we should like to express our thanks to our partners and customers, who during many personal discussions have again and again reiterated their faith in the Port of Hamburg. Statistics already show good market acceptance for the first release of the fairway adjustment. Last year 2,377 containerships called the Port of Hamburg between May and December. Of these, 666 had a design draft of over 13.80 metres. And 96 of them had a draft that would not have been acceptable prior to the release of the fairway adjustment. With the final release, we are anticipating further increases," said Jens Meier, CEO of Hamburg Port Authority.
Additionally HVCC - Hamburg Vessel Coordination Center can now further optimise its Elbe passage planning. This will lead to enhanced safety, on the one hand, further defusing potential conflicts on the Elbe and in the port area. On the other, it will also benefit the environment. Just-in-time arrival during the approach enables many vessels to reduce speed and bunker less fuel, causing lower pollutant emissions.
Finally, near Wedel, a passing box has been built, extending for eight kilometres. This enables vessels with a combined width of less than 104 metres to pass each other. The fairway between Wedel and the Stör estuary has been widened from 300 to 320 metres.