The Fastwater project aims to build on Methanol's numerous references as a simple to adopt sustainable marine fuel.
The Fastwater Consortium and the Swedish Maritime Administration (SMA) recently successfully demonstrated a pilot boat which has been converted to operate on Methanol fuel.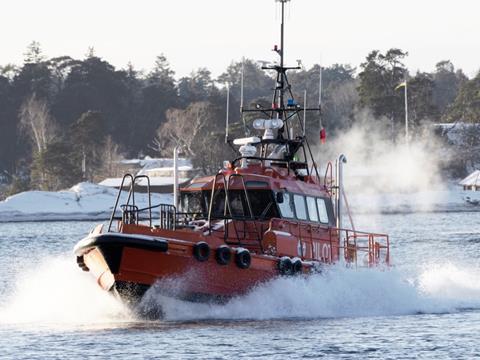 The demonstration in Stockholm Harbour follows the successful bunkering of the vessel at the SMA pilot station in Oxelösund, Sweden, where the pilot boat will be based.
The event was addressed by Members of the Swedish National Parliament Johan Büser and Anders Hansson who spoke to the importance of alternative fuels like Methanol in reducing carbon and pollution emissions on a local and national basis.
Low carbon energy available to shoreside facilities using renewable electricity are hard to replicate onboard ship so for the myriad of small craft - tugs, enforcement vessels, dredgers and pilot boats - other sustainable solutions are needed.
Faced with the problem of needing to cut emissions quickly, port and harbour authorities are examining and investing in methanol as an option that can virtually eliminate air pollution and contribute towards lower carbon.
Methanol single or dual fuel engines are very similar in design to conventional diesel engines with the Methanol fuel supply system designed to meet prevailing safety standards.
The GreenPilot project run by SSPA has demonstrated that it is feasible to convert a pilot boat to methanol operation using available technology. Spark ignited engines with port injected methanol were found to have engine efficiency similar to diesel engines. Emissions reductions were substantial compared to conventional fuel oil.
With funding from the European Commission, Fastwater focuses on high impact outcomes, designing retrofit solutions for existing ships and designs for newbuildings, employing Methanol as a future-proof alternative marine fuel to create a fast track to carbon neutral shipping.
The project aims to commercialize medium and high-speed Methanol-fuelled engines for shipping. Consortium members, including OEMs, shipyards, naval architects, ship owners/operators, port and maritime authorities, classification, fuel producers, and research institutes, will demonstrate feasibility on three vessels running on methanol fuel: a harbour tug, a pilot boat, and a coast guard vessel.
In addition, Fastwater will provide training programs for vessel crew and portside staff, develop rules and regulations for Methanol marine fuel use, demonstrate the complete value chain for bunkering methanol – including net carbon neutral renewable Methanol – elaborate a business plan, and identify CO2 and conventional pollutant reductions.