Jet-Tech Propulsion LLC has partnered with Diesel Outboards LLC to introduce a high-performance waterjet option for the OXE diesel outboard.
The Jet-Tech unit is manufactured as a direct bolt-on replacement to the standard lower unit on OXE Diesel models by OXE.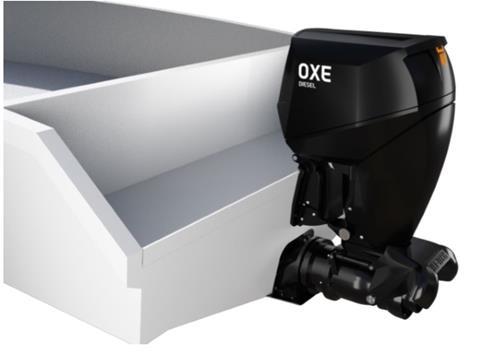 It is a single stage compact high performance waterjet which combines mixed-flow properties within an axial design build, with a hybrid stator for high torque diesel outboard engines and others. One jet fits every OXE Diesel model manufactured. This approach is claimed to combine the key benefits of excellent high-speed efficiency with superior cavitation margins at lower speeds and high load conditions.
The Jet-Tech waterjet's performance is claimed to be equal to or better than propeller versions and is matched 1:1 to the unit horsepower-driven prop outboard. "By using advanced proven waterjet engineering and design capabilities, augmenting the innovative OXE Diesel design, we completely redefined outboard motor propulsion and performance. The Jet-Tech unit is designed to grow with our expanding product line as it is a fully scalable product. The patented design will expand into the vertical shaft diesel/gas outboard waterjet applications and inboard waterjets" said Douglas Natoce, President Jet-Tech Propulsion LLC, and Diesel Outboards LLC