The Surround View Camera System from Garmin® has been selected as a category winner in the 2021 DAME Design Awards. Surround View received top honours in the 'Marine Electronics and Marine Related Software' category.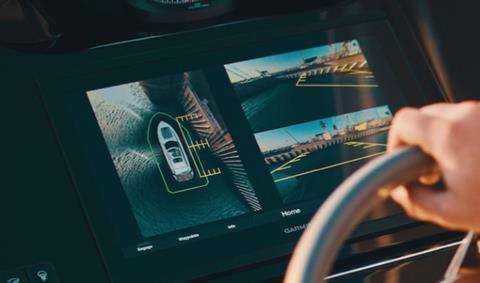 "Surround View raises the bar for marine camera technology, and we're honoured to be selected as a DAME Design Award category winner," said Dan Bartel, Garmin vice president of global consumer sales. "By blending great design with innovative technology, Surround View delivers unprecedented situational awareness and convenience on the water."
The Surround View Camera System is the marine industry's first intelligent camera system to offer a live 360-degree birds-eye view of a vessel, according to Garmin, integrating six through-hull mounted cameras that capture a 360-degree bird's-eye view of the vessel during low-speed manoeuvres, such as docking in a tight spot or navigating crowded waterways. Designed for a broad range of boats, the Surround View cameras have a low profile for OEM factory-installed through-hull mounting that blends functionality with streamlined aesthetics.
Designed to help take the guess work out of docking, Surround View maximises visibility and minimises blind spots by displaying a stitched image with 360-degree real-time video views from around the vessel directly to compatible Garmin chartplotters or multi-function (MFD) helm displays. Thanks to Surround View's augmented reality Visual Bumper and Distance Markers features, captains can quickly and easily manoeuvre the vessel with increased situational awareness ; helping avoid collisions.
Surround View is available now on new builds from Garmin's boatbuilding partners. A compatible Garmin chartplotter or MFD, including the GPSMAP® 8400/8600, GPSMAP 7x3/9x3/12x3 series or the Volvo Penta Glass Cockpit System, is required.
The 2021 DAME Awards competition drew 103 entries from 25 countries. From there, a jury of industry and design experts and media representatives selected 53 "nominee" products before awarding top honors by category to products that represented excellence in every facet of product design—from ease of use, functionality and aesthetics, to environment and innovation.