The final stages of a major project in an Area of Outstanding Natural Beauty, just one part of a £75 million regeneration programme, is all but complete.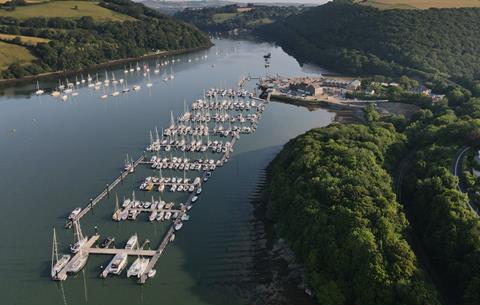 The regeneration of a redundant shipyard to an all-new, 232-berth facility at Noss on Dart Marina in the west of England, has been an exceptional project for Walcon; forming the centrepiece of what will be a sustainable and vibrant community working alongside the natural beauty of the River Dart estuary.
The project began with the removal of all the original infrastructure by Walcon before moving on to inserting the new piles. Due to the density of the shillet rock that lies under the river, the Walcon Wizard piling barge had to use a vibratory piling technique to insert 102 new mooring piles, a task that took eight months. The site had other challenges for the installation team, not least strong currents and deep waters in some places.
With the piles installed, the walkways and finger pontoons began to be added. The majority of these are of the high specification System 21 type, with special features that include premium fendering and extra wide central ducting along the back walkway for heavy duty cabling. The layout follows the line of the river, with finger pontoons replacing the previous alongside double-berthed format.
Walcon's heavy-duty Waliflote pontoons with reinforced guides and frames have been used at the upper end of the marina to protect it from debris coming downstream, while the outer pier at the downstream end of the marina comprises five 20m x 3m concrete pontoons, each weighing 32 tonnes.
In addition to the marina itself, Walcon has also built and installed two access bridges, one for the main part of the marina and the other for the alongside berths adjacent to the shoreside facilities. Additional pontoons have also been installed to serve the new boat hoist built by TMS (Teignmouth Maritime Services) of Dawlish.
The Noss on Dart Marina regeneration is part of a Premier Marinas programme. When complete, the marina site will also host a hotel, a boatyard with a drystack, commercial buildings and a number of residential units.
Walcon has long experience of undertaking projects in sensitive locations, including a number of National Parks as well as AOBs. The company's fleet of barges enables delivery and removal of materials and equipment by water, thereby keeping heavy vehicles off the surrounding roads and minimising noise and inconvenience for local residents. Walcon also uses sustainable materials wherever possible and encourages refurbishment rather than replacement of its pontoons to maximise their 25+ years' life expectancy.