Specialised load monitoring and data logging equipment has been designed and manufactured for an R&D project to grow and manage large-scale kelp forests.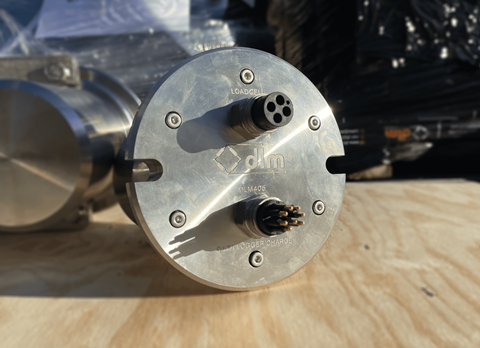 Dynamic Load Monitoring (UK) Ltd (DLM) innovative custom designed equipment will be an integral part of sustainable organisation, Kelp Blue's floating forest and sustainable vision. Kelp is a type of large algae seaweed with many sustainable features.
Kelp Blue is managing a kelp forest off the coast of Namibia and came to DLM, who frequently design and manufacture specialised equipment for various subsea and offshore applications. In the initial design stages, spokesperson Ferdi Knoester, Project Engineer at Kelp Blue requested subsea load monitoring devices to monitor the load tension on mooring lines on a floating structure which is tethered to the seabed.
Kelp Blue created a pilot trial via a computer-generated model of the mooring lines to investigate the tension loads on their floating structure. In order to confirm the tension loads on the computer model, DLM were employed to custom build subsea load cells and data loggers. The devices sent to Namibia include six of DLM's DL-3.0 Subsea Data Loggers mounted onto three cabled Subsea Shackle Load Cells, which are some of DLM's specialised equipment.
Chris Scrutton, Technical Manager at DLM said, "This was our first R&D project for the aquaculture industry, specifically a Kelp farm. We were able to use our standard subsea equipment with modification to fit the structural monitoring brief.
"Some of the challenges that came with the project were the requirement for the data logger to be simple enough for divers to collect the data on a short dive time. Therefore, we designed the data logger with the application in mind, specifically using wing nuts, making sure they were easy to undo for the diver."
DLM design and manufacture custom equipment for the offshore and subsea industries, with past projects in the renewable energy industry and future projects in solar array.