The signing of a new 15-year lease has paved the way to further investment in the infrastructure and the vessels required to operate and provide marine services for Pembroke Port.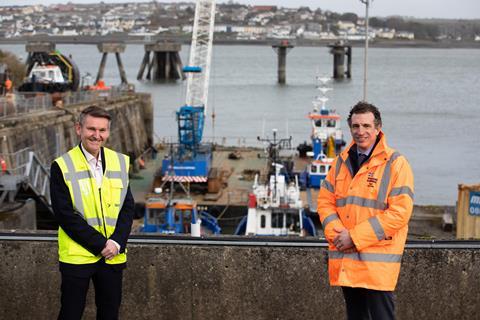 Leading marine and logistics company Williams Shipping has signed a new lease with the Port of Milford Haven continuing the company's commitment to long-term investment in the area.
Williams Shipping provides a wide range of key services to the marine industry and is a recognised supplier to the Port of Milford Haven at the heart of the UK's energy supply and development industry; providing the port with services and solutions including stores deliveries to ships at the oil and gas terminals, crew transfers, navigation mark servicing, oil pollution prevention services, offshore renewable energy support, marine civil engineering support including providing crane barges, towage services and supplying containers through its subsidiary Willbox.
"We have had a marine operation in Pembroke Dock and Milford Haven since 2004," says Philip Williams, Managing Director. "We provide many different services to the port which are contributing to the economic growth of the region.
"We have mobilised a 22m multicat, "Willendeavour", to Pembroke Port where it will now be based alongside our existing fleet including a 15m multicat and 16m tug. In addition, we have invested in a replacement 70t crawler crane to operate from one of our flat top barges and will soon be basing one of our fast passenger launches in the haven to enable faster crew changes."
Steve Edwards, Commercial Director at the Port of Milford Haven, said, "The services and expertise offered by Williams Shipping adds real value to what we can offer our customers not just at Pembroke Port, but across the Milford Haven Waterway. We are the UK's largest energy port and the supply chain around us has over sixty years of experience in providing excellent services to the oil and gas sector.
"As we transition to Net Zero, the skills developed here are proving increasingly vital for the development, logistics, operations and maintenance of renewable energy devices and an increasing number of developers are basing themselves here to take advantage of these skills as well as our natural environment and proximity to the Celtic Sea. Our collaboration with Williams Shipping will therefore be important as we grow this sector on the Haven."
One of the biggest benefits of this facility, for Williams Shipping, is the deep-water quayside within the secure facility of Pembroke Port. Philip Williams adds, "Together with the Port we will also be investing in improving the berthing pontoons at Quay 3, further enhancing our capabilities in supporting marine activity.We hope to continue a long and collaborative relationship with the Port of Milford Haven and the wider community for the next 15 years and beyond."
The port is also committed to developing the marine and renewables sectors, something that Williams Shipping is keen to support.