"Wavelab" is the ground-breaking autonomous boat set to be an advanced testbed for sustainable urban mobility technologies. The contract to supply a complete electric drive train for the vessel is a vital part of the German city of Kiel's plans to bring next-gen intermodal public transport to fruition.
The Torqeedo-powered electric vessel, "Wavelab", will serve as a research platform for the "Clean Autonomous Public Transport Network" (CAPTN) initiative in Kiel. The program aims to create the infrastructure for an integrated inner-city mobility network based on multiple modes of transport on water and land.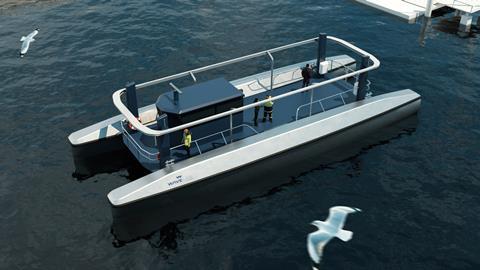 "Wavelab" will be built by the Gebrüder Friedrich shipyard in Kiel and is scheduled to be delivered by the end of 2022. Torqeedo has been selected to provide the fully integrated electric propulsion system. The package includes dual 50 kW Deep Blue steerable thrusters and six Deep Blue lithium-ion batteries with a total capacity of 240 kWh. Four Power 24-3500 batteries supply the 24V onboard grid. The system is completed by a 22kW fast charger, DC/DC converter and DC/AC converter.
The "Wavelab" will serve as an open platform for research and development of the required technologies for a planned clean autonomous public transportation network on the Kiel Fjord. It will follow a modular concept meaning that the vessel will be highly flexible to integrate new technology projects.
"The advantages of electric propulsion are obvious in terms of zero emissions and quiet operation," said Sönke Stich, sales manager of Gebr. Friedrich. "Torqeedo is a clear leader in sustainable mobility technology and will be a solid partner in developing this first-of-its-kind vessel."
"Electromobility and automation can help relieve urban congestion and reduce air pollution by shifting traffic from roadways to underutilised waterways," said Dr Michael Rummel, managing director of Torqeedo. "Torqeedo facilitates this transformation with modular, reliable and safe electric drive systems, all from a single supplier. We look forward to working with the Kiel CAPTN team to advance the state-of-the-art and help bring this modern, highly automated integrated transportation network to li