The last phase of the commissioning of the first of Damen's ground-breaking Fast Crew Supplier (FCS) 7011 class – the Aqua Helix - is now underway.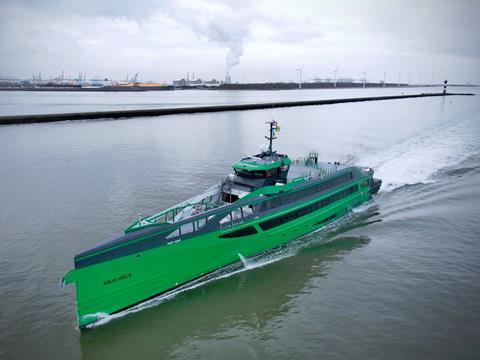 Its Ampelmann gangway was installed and integrated with the ship's systems during the last days of 2021.
Custom designed for the FCS 7011, the S-type motion-compensated gangway is a critical element in this next generation fast crew supplier. Engineered for minimum weight and fully electrical operation, the gangway plays a vital role in offshore crew transfers along with the VEEM gyrostabiliser and a range of other state of the art systems. Together they ensure safe, rapid and cost-effective personnel transfers to and from the vessel in a wide range of sea states.
Following the installation of the gangway, the Aqua Helix is now in the final stages of its sea trials, conducting a full shakedown of all its systems. The first transfers using the gangway will take place in March and, with those successfully completed, the 74-metre, 40-knot, 122-passenger vessel will then be available for customer demonstrations as a fully-integrated offshore crew supply solution. While some prospective customers have already visited the vessel in harbour, this will be the first time that interested parties will have the opportunity to experience her full potential out on the water. Operating out of Den Helder, the initial focus of the Damen FCS 7011 will be on offshore wind and oil and gas operators in the North Sea.
To cut the costs of crew transfer, the FCS 7011 offers the opportunity to transport up to 122 personnel in a single trip. This raises the prospect of a move away from day-rate structures towards a pay per journey model and, potentially, vessel sharing, thereby increasing the efficiency of offshore operations.
The design of the FCS 7011 pays particular attention to on board comfort – in both transit and transfer. During transit, the vessel's Sea Axe bow plays an important role, reducing slamming to a minimum. Meanwhile, the accommodation is located just aft of mid-ships – where pitching motions are experienced minimally. Damen has incorporated interceptors to the vessel's aft to reduce both pitch and roll motions during sailing.
Inside, passengers have luxurious reclining seating with excellent visibility that helps connect them to the sea, enabling them to adjust and reducing the potential for seasickness.