Buoyant Works, manufacturer of high-performance polyurethane fenders, is proud to announce the release of their highly anticipated second- generation Bow Fender Step Extension unit for Crew Transfer Vessels (CTVs).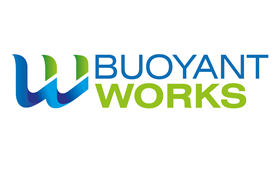 This revolutionary product represents a significant leap forward in safety and efficiency for the maritime industry.
Building upon the success of its predecessor, the new Bow Fender Step Extension retains its innovative "drop and lock" system, but it is now lighter and easier to install and remove. This enhancement ensures a seamless integration and offers unparalleled flexibility for crew transfer operations.
Key features and benefits of the second-generation Bow Fender Step Extension include:
"DROP and LOCK" fixing system: Quick and easy locking mechanism recessed into the body of the step extension.
Reduced Weight: A 20% weight reduction has been achieved. Along with a couple of "lightweight" versions that are less than 25kg for single person operation.
Seamless integration with our lates flush deck step unit options.
Buoyant Works remain dedicated to driving innovation through integrated customer relationships and intelligent design. With the introduction of the second-generation Bow Fender Step Extension, Buoyant Works aim to improve crew transfer operations, elevating safety standards and optimizing vessel performance.
"R&D is at the heart of what we design and manufacture. Listening closely to customer feedback and supported by our in-house testing facilities, we continue to add greater functionality and operational flexibility to our product range". Said Andrew Wickham, Owner of Buoyant Works.
For further information, please visit Buoyant Works or contact them on (Office) 05793 81916 (Mobile) 07850 778109.
CONTACT:
Buoyant Works Ltd
Andrew Wickham
T: +44(0)7850 778109
E: andrew@buoyantworks.com