Representatives from Ecocoast will participate at Seawork | Marine Civils in Southampton, UK between June 21-23, 2022.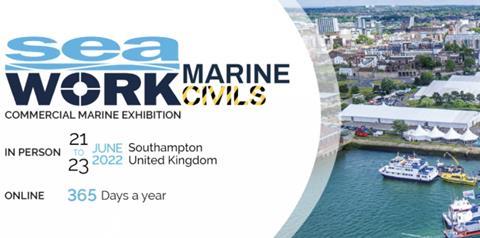 Attracting more than 3,300 attendees and 179 exhibitors from more than 21 countries around the world, Marine Civils is one of Europe's leading events dedicated to showcasing the latest equipment and solutions for challenging marine, coastal and civil engineering projects.
Co-located with Seawork, Europe's largest commercial marine exhibition, Marine Civils will have its own dedicated exhibition hall and will run concurrently with the three days of Seawork, which is expected to see more than 7,700 attendees and 610 exhibitors from 70 plus countries.
The concurrent events are scheduled to be held in Southampton from June 21-23, 2022, and will attract representatives from the Civil Engineering, UK Port Authorities, Energy Companies, Conservation Organisations, amongst others.
With a significant overlap in terms of content and business for companies involved in marine construction, Marine Civils and Seawork will provide attendees with an invaluable opportunity to explore key sectors of their industries and gain access to a wider network of relevant authorities.
Ecocoast will be part of the Marine Civils chapter at Stand G133, and our representatives Michael Sims, sales engineer for Bolina and Ecocoast, and Filip Stefanovic, Bolina's regional general manager, will be on hand to discuss and share insights about what our products and systems can bring to a multitude of projects.
As the largest manufacturer of marine barriers in the world, we ensure the highest quality and strength of barriers, backed by uncompromised engineering design. We also make sure that our customers have consistent technical support to ensure that the right barriers are selected and installed, in the right locations and for the best performance.
Thanks to our heavy focus on Research & Development and collaboration with industry leaders in the design and testing phases, we are able to deliver custom products to suit project, client and budget requirements. Our ISO 9001:2015 certification validates our works and shows that we conform to the highest of quality standards.
At Marine Civils, we will be showcasing a variety of product ranges, including our Silt Curtains, Aids to Navigation, Geosynthetics and the entire Bolina portfolio of products.
Over the years, we have worked on a number of high-profile projects in the UK, Europe, Middle East and Africa, including helping to manage the impact of the UK's worst floods in the winter of 2013 – 2014, where the deployment of our booms helped protect critical flood control structures from damage by debris in the Thames Valley (view case study). Bolina has contributed to the complex and challenging Molesey Weir Refurbishment on the Thames River between 2013 – 2014 (view case study).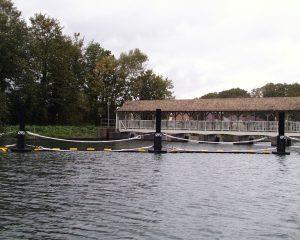 Furthermore, we have worked with government agencies such as the UK's Environment Agency over the years, including at Norfolk's Wainford Sluice, where we installed our safety booms to the structure to protect river users from dangerous hazards (view case study). On the River Trent, we have contributed to ensuring the safety of the river for more than 20 years, while our Airport Security booms have also been deployed at London's City Airport, and most prominently, at the 2012 London Olympics.
Join Filip and Mike at Marine Civils between June 21 – 23 at stand G133, to learn more about how our systems can benefit your projects.