As more people move closer to coastlines and more islands are developed, especially in the GCC region, the demand for efficient coastal protection is only going to become increasingly important.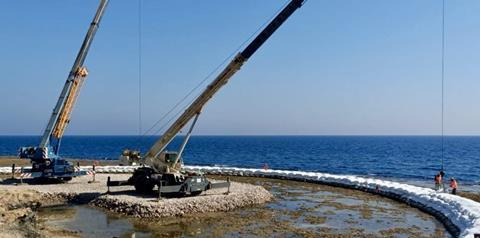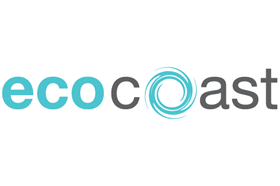 This involves safeguarding shorelines and other nearby infrastructure from potential damage, due to coastal flooding, strong waves, and other environmental factors.
Climate change has also had a major impact on coastal regions. Recent studies have shown that sea levels are rising at an alarming rate, and this combined with changing weather patterns can cause extensive damage to infrastructure and natural ecosystems if the right measures are not taken.
These changes require nations to find better solutions for coastal protection. One of these solutions lies in geosynthetic containers.
Geosynthetic Containers: A Cost-Effective, Environmentally-Friendly Solution for Protecting Coastal Infrastructure, People, and Natural Ecosystems from the Effects of Climate Change
Traditional methods for protecting against coastal erosion, such as seawalls and revetments, often do more harm than good to the surrounding environment. Geosynthetic containers are a highly effective way of stabilizing the shoreline and minimizing the impact of waves and tides. By doing so, we not only protect buildings and other man-made structures but also safeguard people and ecosystems.
Definition of geosynthetic containers
Geosynthetic containers, or GSCs, are three-dimensional systems made from geotextile materials filled with sand (or mortar). The use of sand-filled geosynthetic containers in coastal engineering dates back more than 50 years and is considered an innovative, economic, and environmentally friendly method.
Benefits of GSCs
Environmental benefits. 1/ Coastal protection, including more efficient erosion and flooding control. 2/ Lower environmental impact. Geosynthetic containers can be used over and over again, meaning less waste ends up in our oceans and landfills. They also have less of an effect on marine environments than the more traditional materials. 3/ Enhance habitats for local marine life. Sand-filled containers create the perfect environment for aquatic species to thrive. They can be used to build artificial reefs that provide shelter and food sources for fish and other sea creatures.
Socio benefits. Geosynthetic containers can serve multiple purposes, one of which is providing an artificial reef for surfing and diving. Furthermore, they not only keep beachgoers safe, but also improve the quality of sand.
Economic benefits. Geosynthetic containers give a way to continue economic growth while being environmentally friendly.
Recent project in the Red Sea
To avoid significant setbacks, a solution was needed to protect a construction site and temporary access to an island in the Red Sea, Saudi Arabia. This was to ensure a safe and secure environment for infrastructure and people during the duration of the project, allowing for uninterrupted progress until completion. The required protection structure needed to be easy to both setup and take down at the end of the project without harming the marine environment.
We recommended using engineered and reinforced geosynthetic containers, Ecobags, to withstand UV exposure so that they could remain on site for the project duration of 4 years. With this solution, the client can feel confident and secure whilst construction works are ongoing.
The project involved the entire journey of our services, from design to supply and installation supervision. In four years, the geosynthetic containers will be removed without harming the environment or marine life–something that was very important to our client.
Conclusion
We were chosen for the project because of our engineering expertise and technical know-how. We are one of the few companies around the globe that specialize in designing, manufacturing and constructing structures with geosynthetic containers–a position we proudly hold at the forefront.
This project is a great example of how geosynthetic containers can be used for protecting infrastructure, people and the planet. We are excited to see more projects like this in the future.
To get in touch, visit ecocoast.com/contact-us today!
–
FURTHER INFORMATION
Our GSC datasheets can be downloaded on the product page: Ecobags & Ecotubes.
For other geosynthetic container related blogposts, click here.