Irish crew transfer vessel (CTV) owner and operator Farra Marine has expanded its fleet of CTVs after ordering a further seven vessels from Singapore-based Penguin Shipyard International.
The CTVs - part of the WindFlex-27 series - will, when complete, see Farra Marine boast a fleet of 14 CTVs servicing the UK and European offshore wind industry.
By early 2024, 13 of the 14 CTVs in the fleet will be Incat Crowther-designed, Penguin-built vessels.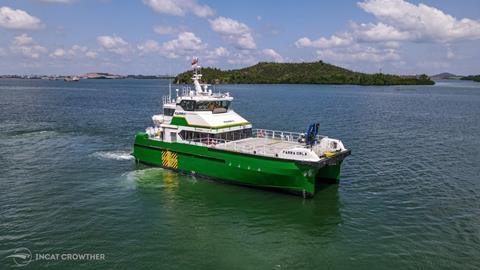 They have been customised to meet Farra Marine's special operational requirements, following discussions between Farra Marine CEO Martin Rice, Incat Crowther and Penguin.
The WindFlex-27 features a high deadweight capacity (50 tonnes), plush seating for up to 24 pax and Incat Crowther's Resilient Bow Technology, which ensures safe and efficient operations in up to 2m wave height. The system ensures passenger transfers in up to 1.75m wave height.
For the 2023 series, the WindFlex-27 will be powered by IMO Tier III Volvo Penta D16 main engines.
The upper deckhouse features the wheelhouse, a crew mess and pantry, and a bathroom. The hull below the main deck is fitted with sleeping quarters for four crew, including two bathrooms.
"When we were selecting a supplier to help expand our fleet, it was important to partner with companies that had the capability and expertise to deliver, as well as one who was willing to genuinely listen to our unique needs and requirements, said Rice.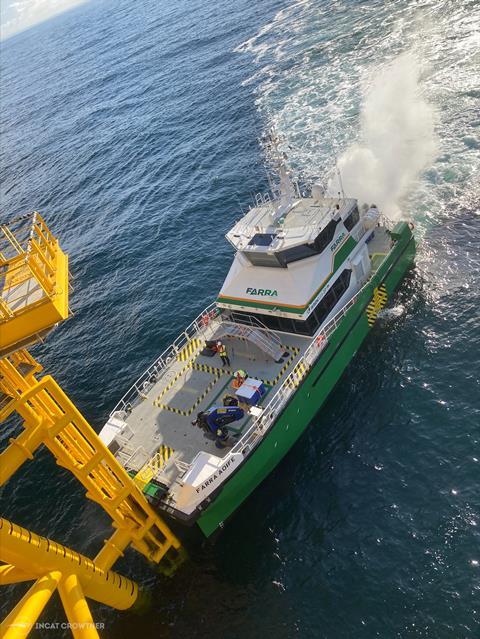 "During a period of rapid growth for Farra Marine, I've enjoyed working with Incat Crowther and Penguin to build up our fleet," Mr Rice added. "With the addition of our new vessels, we will offer our clients a truly bespoke service and remain ahead of the game here in Europe."
Incat Crowther's Managing Director – Europe, Ed Dudson, said the design process was a sign of the strong partnership between Incat Crowther, Penguin and Farra Marine.
"With the offshore wind power industry growing in the UK and Europe, the addition of these bespoke and state-of-the-art CTVs to Farra Marine's fleet means they are perfectly placed to continue to meet the increasing demand for their services," said Dudson.
The vessels are expected to be delivered in 2023 and early 2024.