Leading digital shipbuilder Incat Crowther has successfully delivered a new high-performance, state-of-the-art 20-metre patrol vessel to Thailand's Customs Department.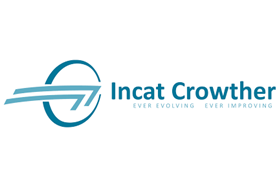 Unveiled at a launching ceremony attended by dignitaries and senior leaders from the Customs Department in April 2023, the 20-metre monohull patrol vessel, Customs Boat 523, is now patrolling the oceans off the coast of Thailand.
Delivered in partnership with Thai shipbuilder Seacrest Marine, Customs Boat 523 can operate at speeds of up to 35 knots with a cruising range of up to 300 nautical miles. The delivery to Thailand's Customs Department is the latest successful collaboration between Seacrest Marine and Incat Crowther, with the duo successfully delivering six vessels for government departments in Thailand including both the Customs Department and the Thai Police Department.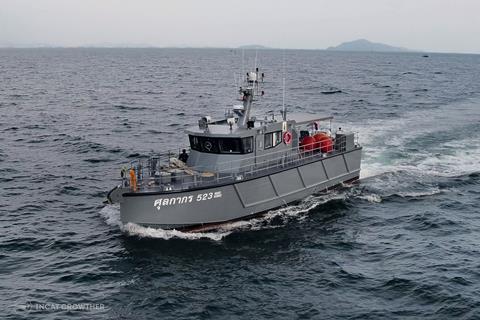 Designed for maximum performance and efficiency, Customs Boat 523 boasts an efficient hull paired with twin-propeller propulsion. The design of the vessel has also been tailored to the Customs Department's operations with a low draft allowing for operation in shallow coastal waters. The large wheelhouse on the main deck provides optimal sightlines for the crew, while the vessel also has high-powered search, side, and flood lights to allow for operations in darkness. The vessel's hull deck provides space for a large galley and comfortable sleeping quarters for three crew on rotation.
Tanapat Hemangkorn, Managing Director of Seacrest Marine, said the delivery of Customs Boat 523 was the result of a successful collaborative process between Incat Crowther and Seacrest Marine.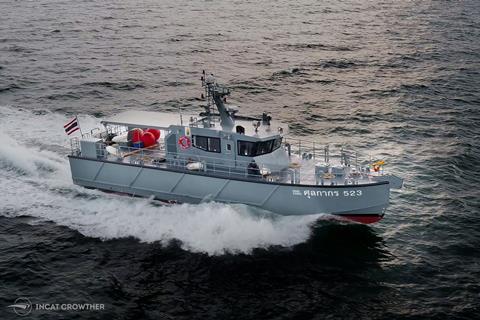 "We have worked closely with Incat Crowther over several years now to deliver vessels to multiple Thai Government agencies. In the case of Customs Boat 523, Incat Crowther provided a proven monohull platform that would meet the department's performance requirements," said Mr Hemangkorn.
"The final product is a vessel that is truly tailored to the operational requirements of Thailand's Customs Department, and we are incredibly pleased to have delivered another state-of-the-art vessel in partnership with Incat Crowther."
SPECIFICATIONS – INCAT CROWTHER 20
PRINCIPAL DIMENSIONS
Length Overall
67' 3" / 20.50m
Length Waterline
65' 1" / 20.14m
Beam Overall
18' 1" / 5.50m
Draft (hull)
2' 10" / 0.85m
Depth
10' 2" / 3.10m
Construction
Marine grade aluminium
CAPACITIES
Fuel Oil (Service)
634 gallons / 2 400 litres
Fuel Oil (Wing Tanks)
602 gallons / 2 280 litres
Fresh Water
127 gallons / 479 litres
Sullage
96 gallons / 365 litres
Crew
6
PROPULSION AND PERFORMANCE
Speed (Service)
20 knots
Speed (Max)
37 knots
Main Engines
2 x MTU 10V2000 M96L
Power
2 x 1 193kW @ 2 450rpm
Propulsion
2 x Propellors
REGULATORY
Flag
Thailand
Class / Survey
NSCV Fast Craft (Fire and Safety)
Lloyds Register SSC Patrol
G3(Structure)
Find out more about Incat Crowther's track record of successfully delivering projects in the defence sector.
For More information contact:
AUSTRALIA OFFICE, PO Box 179, Terrey Hills, NSW, 2084 AUSTRALIA
+61 2 9450 0447 | info@incatcrowther.com | incatcrowther.com