The first 32m parallel hybrid crew transfer vessel (CTV) designed by Incat Crowther for Emden-based EMS Maritime Offshore (EMO) has been successfully delivered, with the vessel already servicing Germany's offshore wind industry.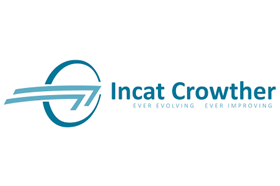 WINDEA ONE is the world's first CTV to utilise Volvo Penta's new parallel hybrid system together with IPS propulsion and can be operated in an all-electric mode for up to six hours.
Built by Singapore's Penguin Shipyard International, under the designation WindFlex-32, WINDEA ONE is based on Incat Crowther's proven 32-metre CTV model. The hybrid vessel is IMO Tier III compliant and represents a step change in the sustainability of the offshore wind support industry.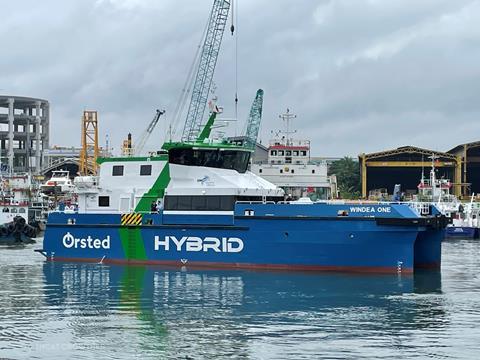 Following an inauguration ceremony in Germany earlier this month, WINDEA ONE will now be deployed by Orsted to service its wind farms in the North Sea.
Capable of speeds of up to 28 knots, WINDEA ONE will be serviced by up to six crew and will transport up to 24 service personnel in safety and comfort between the European mainland and the North Sea.
The vessel's upper deck has two single office cabins, a bathroom, a crew mess, and galley along with an office/meeting room.
The main deck features a client cabin and first aid room, along with two separate spacious accommodation areas for technicians, a technician change area and two bathrooms. The hull features four additional crew cabins.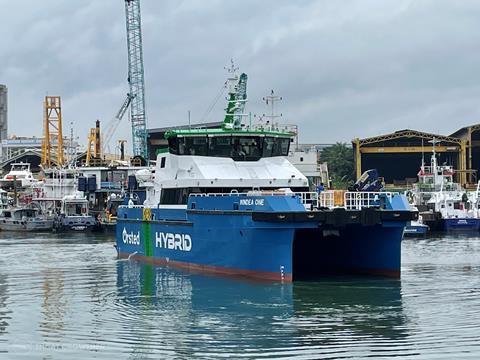 WINDEA ONE has also been fitted with a hydraulic knuckle-boom crane, capable of carrying loads of up to 50 tonnes.
The vessel incorporates Incat Crowther's patented Resilient Bow Technology minimising boat landing impact forces.
Ed Dudson, Managing Director of Incat Crowther Europe said the WINDEA ONE project saw Incat Crowther incorporate leading-edge technology into the design.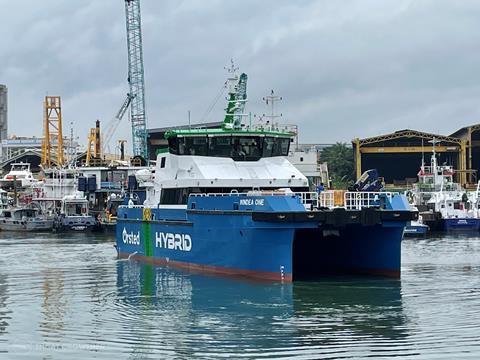 "The inclusion of Volvo's new parallel hybrid propulsion system in this vessel places EMO at the cutting edge of the industry. Not only can the vessel be operated in a fully electric mode, but there are also options to switch to biofuel, helping to further reduce emissions and the vessel's impact on the environment," said Mr Dudson.
"It's been fantastic working closely with EMO and our strategic partner Penguin to deliver WINDEA ONE. With the vessel now in the water, we are confident it will be the first of many to incorporate hybrid propulsion systems as operators look to maximise efficiency and reduce emissions," said Mr. Dudson.
Find out more about the Incat Crowther 32
SPECIFICATIONS – INCAT CROWTHER 32
PRINCIPAL DIMENSIONS
Length Overall
104' 33" / 31.8m
Length Waterline
97' 44" / 29.7m
Beam Overall
32' 80" / 10.0m
Draft (hull)
4' 92" / 1.5m
Depth
14' 27" / 4.35m
Construction
Marine grade aluminium
CAPACITIES
Fuel Oil
9 378 gallons / 35 500 litres
Fresh Water
925 gallons / 3 500 litres
Black Water
660 gallons / 2 500 litres
Passengers
24
Crew
6
PROPULSION AND PERFORMANCE
Speed (Service)
25 knots
Speed (Max)
28 knots
Main Engines
4 x Volvo DI13
Power
4 x 515kW @ 2250rpm
Propulsion
4 x Volvo IPS 30
Generators
2 x Kohler 44 ekW
REGULATORY
Flag
Germany
Class / Survey
Bureau Veritas

For More information contact:
AUSTRALIA OFFICE, PO Box 179, Terrey Hills, NSW, 2084 AUSTRALIA
+61 2 9450 0447 | info@incatcrowther.com | incatcrowther.com