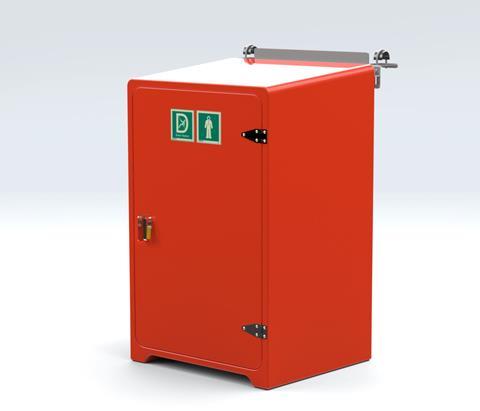 By Orsted working directly with Jo Bird's engineering team, we have been able to design a customised cabinet specifically for Orsted which precisely fits around the Viking supplied equipment and able to cope with the wind speeds in these exposed locations. By manufacturing the cabinets from composites, the weight has been kept down and corrosion will not be an issue. Just as well as Orsted want the cabinets to last for thirty years!
Being a forward thinking company, they have taken the long term view of saving on operational costs. Rather than paying slightly lower up front costs but having to spend more on maintenance and incur the major expense and inconvenience of replacing the cabinets after a few years which they would probably have to do if they'd bought an off the shelf design.
The excellent IP rating will also ensure the contents are well protected from the elements and remain in perfect working order and the cabinet is exactly the right size. Important in such a small deck area. The cabinets will be securing fastened to the helidecks of existing and future turbines.
Orsted are leading the way with developing effective escape kits for maintenance teams in case they become trapped in the nacelle during a fire. The ever greater heights of the turbines has been a critical factor in driving this development by the world's No1 offshore wind operator. The cabinets and Viking escape equipment are due to be retrofitted to their existing turbines from next Spring. Manufacturing of these new cabinets will commence in early January at the Jo Bird factory in Somerset ready for shipment of the first batch of cabinets in March.
We'd like to thank the engineers at Orsted and the Offshore wind team at Viking life-saving in Esbjerg for their fantastic cooperation throughout the design phase of this project.