Safehaven Marine have launched 'Svitzer Oued Laou' for Svitzer's pilotage operations at Tanger Med 2 in Morocco, the 4th Interceptor 48 pilot supplied to Svitzer.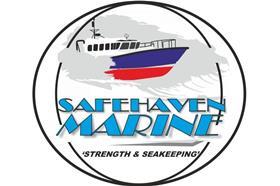 She follows the three Pilot 48's Safehaven supplied to their compatriots, Boluda Tanger Med earlier this year. She represents Safehaven's 58th pilot boat delivered, and clearly the companies Pilot 48 has proved extremely popular and successful in the region.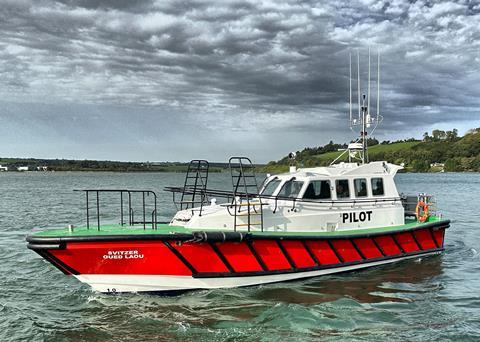 Powered by a pair of Volvo D13 500hp engines, ZF gearboxes and conventional shaft drive, she has an operational speed of 25kts. Accommodation comprises a crew / pilot capacity for 7, all on KAB suspension seating in her comfortable 27,000btu air-conditioned main cabin, which features a central helm position fitted with a full array of navigation equipment and offering excellent visibility and control of the craft when undertaking alongside ship pilot transfers. To assist pilots during navigation and pre-pilotage, a table and console is provided for one of the pilot seats incorporating its own 16" ECDS navigation display and VHF.
Additional seating for 5 is provided in the spacious forward cabin which houses a dedicated walk in electrical compartment, bathroom and galley. Safehaven's proven MOB recovery system is fitted on the transom allowing a casualty to be easily recovered in a MOB situation. 'Svitzer Oued Laou' is self-righting, able to recover after capsize by a large breaking sea or other sea state or wave induced unforeseen capsize situation making her a very safe platform for pilotage.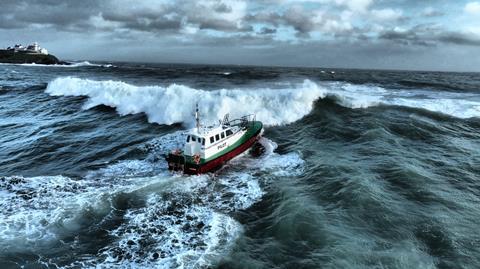 Heavily fendered and fitted with Safehaven's well proven sacrificial shoulder fender system, protecting the main boarding area and cushioning the inevitable hard impact that can occur in poor conditions, the larger fender also facilitating a gap for the ships boarding ladder to lie when alongside, and the bow area is heavily fendered for bow boarding or occasional small ship pushing operations.
Storm Agnes and pilot boat Safehaven Marine
Here's a nice little video of rough weather sea trials that coincided with 'Storm Agnes' last week in the Interceptor 48 pilot boat 'Svitzer Oued Laou'. The storm produced some pretty big waves at the entrance to Cork Harbour, and strong winds during the height of the storm. We managed to capture some cool footage from Roches PT lighthouse. It was fairly rough, although by not coinciding with the ebbing tide conditions aboard were quite comfortable, and our Pilot 48 handled it effortlessly as always.