Hendy Power has reinforced its commitment to Baudouin engines in the UK with a comprehensive aftersales parts service for the marine power market.

Power products parts manager Paul Aburrow says that Hendy Power is set to stock 300 lines with next day delivery offered where applicable for items such as turbos, water pumps and seals.
"We are continuing to build our relationships with Baudouin after being appointed UK distributor for its marine engines earlier this year," said Paul. "We are set to stock the items most commonly needed by operators and for anything more specific we can secure items directly from Baudouin for swift despatch to customers."
Paul said the aftersales parts service will form part of Hendy Group's successful parts distribution centre in Hampshire.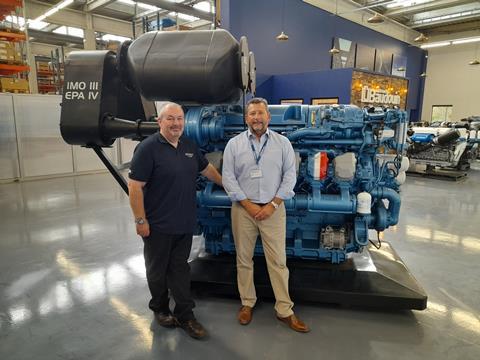 "We already operate fast delivery services for a range of manufacturers such as, FPT Industrial, Ford Component Parts, Lister Petter and Kohler Engines, and we're delighted to add Baudouin to this operation," he said.
"Customers will be able to phone or email through an order and our team will be ready for same day despatch, or local customers are welcome to collect from our premises."
The Baudouin range of engines provides the commercial marine market with engines particularly suited to fleet operators and boat builders looking to operate at high power for long-duty cycles such as offshore fishing, wind support vessels, tugs, large trawlers, and large car ferries.
---
About Hendy Power
Hendy Power is the award-winning industrial and marine engine division of the Hendy Group, offering an extensive range of services, including new engine supply, 24-hour engine breakdown callouts, outstanding aftermarket service support, and OEM parts.
Founded in 1968 and part of the wider Hendy Group, the Power division has the same family values and dedication to delivering the excellent service the group strives to offer. Hendy Power has supplied over 120,000 engines and is proud to hold industrial and marine distributorships with FPT Industrial and Ford Component Sales, Moteurs Baudouin, and Lister Petter. Hendy Power is also a dealer for Kohler engines.
Along with the supply of industry-leading engine technology, Hendy Power also supplies engine parts, major assemblies, and original equipment components to industrial, marine, and specialist vehicle applications. Hendy Power also works closely with its manufacturers to bring products to market that meet UK and Ireland regulations, such as the IMO Tier III emissions regulation.
Hendy Power is the FPT Industrial authorised distributor for the UK and Ireland for sales, services and parts for on-road, off-road, power generation, and marine applications.
Certified to ISO 9001, Hendy Power offers full workshop facilities and a wide range of service parts for same-day dispatch. Our expert engineers use state-of-the-art equipment and support clients around the globe by carrying out emergency repairs, routine maintenance, and aftermarket support across our marine, industrial and off-road markets, guaranteeing that our service support will always go above and beyond.
Hendy Power is a member of the British Marine Federation and The Workboat Association