AI based Maritime Autonomy & Navigational specialist, Robosys Automation and leading UK specialist installer and integrator, Landau Marine, have announced at DSEi in London (UK), a new pioneering collaboration that enables full stack maritime autonomy for both new-build and retrofit vessels and naval craft.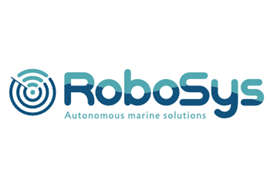 Robosys' Voyager AI software enables crewed, lean crewed, optionally unmanned, and fully unmanned vessel operations at the switch of a button. It delivers efficient Remote Control and reasoned Autonomous operations from a remote operations centre (ROC) or ground control station (GCS), either ashore or afloat from a mothership.
Robosys and Landau are collaborating to deliver maritime autonomy solutions, UK headquartered Landau Marine supplies installation, integration, and maintenance services for numerous defence clients; including NavyX, the Royal Navy's Autonomy & Lethality Accelerator. Landau capabilities encompass all aspects of technology integration linked to vessel design and construction, with a particular focus on zero emission technology and decarbonisation initiatives.
The new collaboration between Landau and Robosys brings together a leading UK integrator-installer-service provider with a proven AI maritime autonomy software developer, to enable customers to swiftly convert their vessels to fully autonomous and/or lean-crewed operations.
Integration of Robosys Automation's Voyager AI Vessel is a full stack autonomy solution that is complemented by artificial intelligence combined with decision-aids, enabling fully autonomous unmanned surface vessels (USVs). Suited for surveillance, surveying, warfare, and patrolling duties, Voyager AI is vessel, propulsion, and sensor systems agnostic.
Roger Cerrato, Sales Director at Landau commented at the DSEi launch event, "Landau helps customers install and best utilise new technologies such as Robosys Automation's Voyager AI suite. This new collaboration with Robosys reflects the Landau ethos, being to provide innovative installation and integration solutions that are beneficial to our customers, our business, and our world, in efficiency, economic, and environmental terms.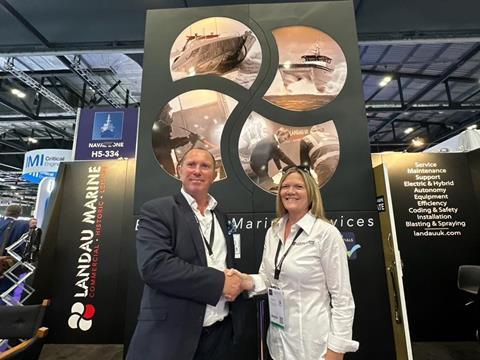 Cerrato continues, "We are dedicated to supporting ourcommercial and defence customer base in their requirements for more innovative and effective solutions, such as retrofitting a crewed vessel to become an autonomous craft at speeds of up to 45 knots, delivering many benefits including helping to drive the net zero agenda.
Nigel Lee, CSO of Robosys Automation comments, "We are delighted to be working with Landau Marine. This partnership will provide an end-to-end solution for all customers looking to integrate Voyager AI to a new build or as a retrofit to an existing workboat or craft, as Landau's facilities and team are second to none."
Robosys' Voyager AI suite of integrations include proven full autonomous capabilities, combined with collision avoidance, anti-grounding, and smart object avoidance, and loss of communications features, amongst others. Voyager AI will operate with a broad array of naval craft, barges, pilot boats, and workboats, and is particularly effective in those 3 to 24 metres in length. Voyager AI is in operation on board naval vessels, surveillance craft, survey vessels, and pilot boats, naval tugs, and workboats."
"The use of Voyager AI significantly extends a traditional vessel's lifespan through straightforward and swift retrofitting. This enables increased cost-effective, safer, and environmentally focused outcomes for those who wish to continue using their existing craft, but now with the added benefits of crewed, lean-crewed, optionally uncrewed, and uncrewed options, dependent on the specific challenge."
Robosys' Voyager AI Vessel solution offers IMO Degree 4 autonomy, which is ideal for the defence sector as it can be retrofitted to almost any vessel or workboat. Robosys Automation's systems offer remote control as well as advanced and intelligent autonomous navigation, with platform and payload control which can be integrated to most vessel systems, together with collision avoidance, and systems monitoring options, delivering a proven and trusted full-stack maritime AI autonomy solution.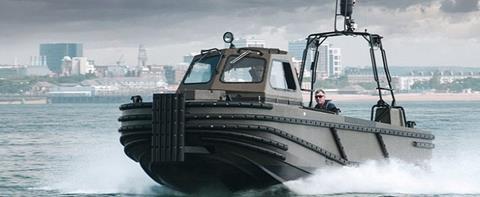 Discover more at DSEi stand H5-330.
Find out more about Robosys Automation
Find out more about Landau Marine
ABOUT ROBOSYS AUTOMATION
Since 2002, Robosys Automation has been regarded as the world leader in maritime autonomy and smart shipping applications, delivering pioneering and intelligent navigation solutions to crewed, lean-crewed and autonomous vessels, USVs and ships, from 3m to 320m.
Headquartered at the UK's National Oceanography Centre with offices in India, USA and Canada, Robosys' solutions are proven and boast full IMO Degree 4 Maritime Autonomy capability.
Robosys has two decades of experience in developing and supporting AI maritime autonomy and smart shipping solutions with its platform, propulsion, and sensor-agnostic software; for both operational purposes, and for training simulation in synthetic environments.
Robosys' solutions include its ground-breaking VOYAGER AI software which transforms any motorised vessel into a fully autonomous Unmanned Surface Vessel (USV); which features independent navigation, collision and obstacle avoidance, anti-grounding and dynamic route optimisation.
In addition, Robosys offers numerous options to complement VOYAGER AI, including COLREGS-compliant Collision Avoidance Decision Aid (CADA) applications, to enhance the safety in the support of crewed and lean crewed watchkeepers. Other options include Voyager Platform Control providing Remote Steering, Engine Control and Propulsion Control, together with Voyager Platform Management, providing Alarm Monitoring, together with Switch & Relay Controlling.
Applications are used in vessels undertaking surveying, pilotage, defence, bulk, short sea, search and rescue, and research operations.
Robosys' international partners include the Australian Maritime College (AMC Search), Maritime Research Institute of Netherlands (MARIN) and the Marine Robotics Innovation Centre (MRIC) at the UK's National Oceanography Centre (NOC).