Ribcraft is pleased to announce that it has secured another bespoke patrol boat order from the Inshore Fisheries and Conservation Authority (IFCA) sector.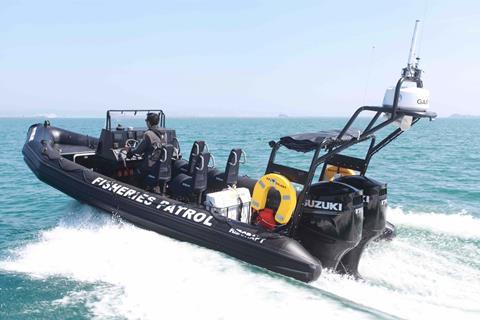 The Yeovil-based boat builder has recently handed over a new 7.8m RIB to Kent and Essex IFCA. The vessel has been built to the customer's exact operational requirements, which are for general patrol and fisheries protection missions.
Crews can be at sea for long periods of time, so the new boat features a large console with ample weather protection and a comprehensive navigation suite. This is combined with the comfort and safety of Ullman suspension seats giving the crew all the benefits of a sophisticated state of the art vessel.
The boat is fitted with twin 175hp Suzuki outboards, which deliver excellent acceleration and speed as well as giving the helmsman increased control which, when combined with the Ribcraft hull design, gives the boat incredible manoeuvrability. This is of paramount importance when the crew are undertaking interception and boarding duties.
In addition, the outboards are extremely quiet and fuel-efficient, courtesy of Suzuki's market-leading Lean Burn technology, which gives the boat a much bigger operating range.
Vessel manager Colm O'Laoi said, "The Ribcraft 7.8 has met all our tasking requirements in one go with a great turnkey package from Ribcraft. All the way from initial concept to manufacture, sea trials and coding, they have given us complete confidence throughout the whole process and we are extremely happy with the end result."
Dorian Martin from Ribcraft said, "We build all of our boats from the ground up at our factory in Yeovil, Somerset. Each boat can be tailored to meet the client's exact needs and I am pleased to say that this is the sixth IFCA boat that we have built so we have a very good understanding of this particular type of operator.