Wetwheels is a well-renowned provider of accessible powerboating that aims to build the confidence of its disabled participants by providing the opportunity to access the sea in a fun, safe, stimulating and rewarding way using specially modified, fully accessible powerboats.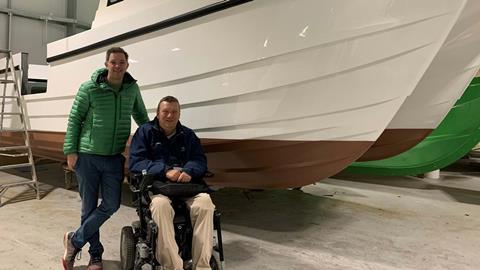 Since its conception in 2011 Wetwheels has taken thousands of disabled people on voyages of discovery. The aim is now to provide access to the water to thousands more by launching new boats in new communities.
To this end, Wetwheels founder Geoff Holt MBE DL recently visited the home of Cheetah Catamarans in Ventnor, Isle of Wight to take a first glimpse at the latest Wetwheels boat, which is due to be launched in the South West of England later this year. Geoff was joined on the visit by David Rogers, who is going to be the operator of the new boat in Falmouth.
The vessel shell for Wetwheels South West is complete and the build is really starting to take shape. Cheetah are currently working on the interior and will soon be installing an array of the latest Raymarine equipment on the dash. Hypro Marine, who provide the steering components, have been helping to determine the steering position at the helm, which is crucial in allowing wheelchair users to take the helm and drive the boat.
All Wetwheels boats are powered by Suzuki outboards and this one will be no different as it will be powered by twin DF325A outboards, with their unique dual propeller technology. One of Suzuki's Authorised Dealers, Marine Matters based in Warsash, will soon be rigging the boat with its outboards.
Speaking after his visit Geoff said, "We are blessed with a fantastic team of supporting partners for Wetwheels boats and I am pleased to say that this latest build is going very smoothly indeed. We have established a very good design and specification for our boats which has proven to be hugely successful, so we are all really looking forward to the launch of this latest addition to the Wetwheels family."
David Rogers added, "We are all really excited to see the new boat come to fruition. I have been hugely impressed by the set-up on the other Wetwheels boats so I can see why Geoff sticks with a tried and tested model. From the electronics through to the awesome power of the outboards, everything just works perfectly which gives us a huge amount of confidence."