New TotalCommand controls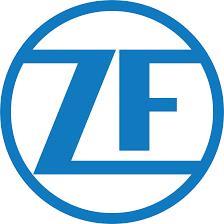 Content from our commercial partners
Find out more
ZF Marine is recognized as an outstanding and reliable partner for propulsion systems, supplying complete driveline systems as well as components for all types of vessels – motor yachts, watersports boats, high-speed ferries, workboats and commercial vessels, in a power range from 10 to 12,000 kW. The product portfolio includes a comprehensive range of transmissions (reversing, non-reversing and hybrid), propellers, steering systems and CAN-bus-compatible electronic control systems, azimuth thrusters, tunnel thrusters and sail drives. The product portfolio is continuously enhanced and adapted to the market conditions. Security, a long product lifecycle, comfort as well as the customers interest is first priority.
TotalCommand is a new propulsion control family from ZF, a company whose control systems have always been at the leading edge of electronics development.
TotalCommand includes advanced functionalities to complement ZF's industry-leading transmission technology, including improved clutch responsiveness, optimized control of proportional valves, and adaptive gear engagement. The system can also provide telematics data (temperature, pressure, and output speed) via embedded sensors in ZF transmissions, so the captain has complete visibility to the health and function of the entire propulsion system. ZF TotalCommand provides captains unprecedented control and precision with smooth shifting and seamless transitions between operating modes.
For further information visit us at www.zf.com/marine or dive into our marine showroom: www.zfmarinemobility.com
In case that you have questions about our company, our products, technical details or spare parts, then get in touch with us by e-mail: info.zfmarine@zf.com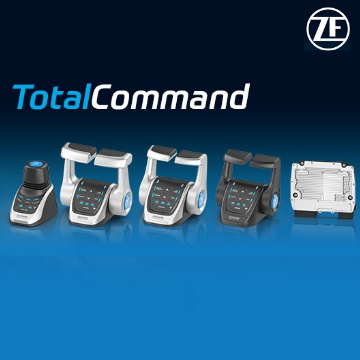 Your control is our passion
ZF collaborated with the world-famous Italian designers Giorgetto and Fabrizio Giugiaro for the design of the new TotalCommand control levers and joystick. The Giugiaro name is legendary in the automotive world. The collaboration between ZF and Giugiaro has produced new lever and joystick designs that are as functional as they are elegant.
The joystick provides the helmsman with simple and intuitive vessel control. Engines, transmissions and thrusters are automatically controlled together providing smooth, unbeatable "ease of control". Moving parallel to the dock, 360° rotation on the spot and other complex maneuvers are now easy operations. This means driving a pleasure craft becomes less stressful, simple and safe!
ZF iAnchor holds a vessel's position and heading using an integrated GPS receiver compensating for wind and current.
Plug-and-Play installation
TotalCommand is the result of sixty years of experience in designing vessel control systems: a powerful control system for modern electronic engines and ZF transmissions.
TotalCommand integrates the latest CAN-bus communication technology with the industry's best multifunction control heads to accommodate up to six stations.It utilizes plug-in connectors that simplify vessel integration and reduce installation time significantly. System is fully configurable from the bridge: simply enter the parameter code on the control lever and instantly load the adjustment.
TotalCommand can be used in a wide variety of commercial applications including mechanically actuated engines and transmissions or any combination of electronic throttle or shift.
The system has been rigorously tested to meet the highest marine industry standards and is 100% compliant with all major classification societies, such as ABS and DNV.
Main characteristics
- Industry-leading shifting performance
- Adaptive gear engagement
- Unmatchable clutch responsiveness and precision
- CE marking, USCG, ABYC and IACS compliant
- Assisted joystick and DP functions
- Transmission-mounted processor option
- Wifi ready
- Combined and independent trim controls
- Smart Transmission enabled with predictive maintenance
- All water-proof components (IP67+)
- Automatic engines RPM synchronization
Further Information:
For further information visit us at www.zf.com/marine or dive into our marine showroom: www.zfmarinemobility.com
In case that you have questions about our company, our products, technical details or spare parts, then get in touch with us by e-mail: info.zfmarine@zf.com