We are extremely pleased to announce that IMS (Industrial Marine Silencers Ltd.) have appointed Halyard (M&I) Ltd. as their exclusive distributor for the marine market. This follows a longstanding and successful relationship where the two companies have worked together using IMS products with Halyard exhaust systems solutions.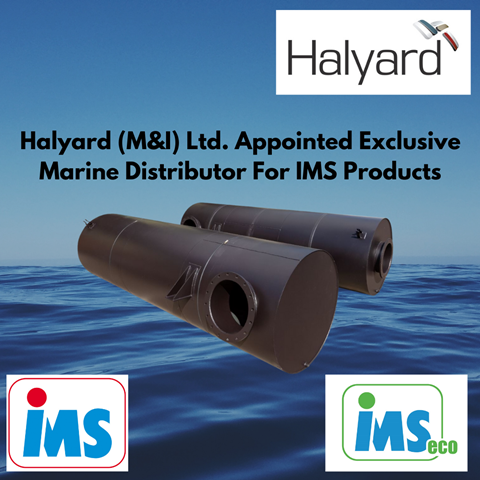 UK based IMS are global leaders in noise reduction and particulate filtering, manufacturing absorptive and reactive exhaust gas silencers, emission control technology, acoustic enclosures, air inlet & extract attenuators, and acoustic doors.
Halyard are an established industry leader in the design, manufacture, and distribution of technical below deck's equipment including exhaust systems, environmental protection products and noise and vibration control equipment.
Glyn Rennocks, IMS Managing Director commented "We have had a long-standing relationship in place with the team at Halyard (M&I) Ltd. butwe arepleased to extend this further and appoint them our exclusive distributor within this market.With both our technological know-how and continual advances in this area, we are confident that this will cement our joint positions as market leaders in the marine sector"
David Johnson, Sales Director at Halyard added "Halyard's focus is making boating more enjoyable by reducing noise, vibration and emissions, so adding the IMS range of products to our portfolio means we can emphasise this focus and advance it further offering our customers an optimised reduction in noise and emissions".
The all-important aftersales support will be provided by Halyard and its UK and overseas distributor and dealer network.
Contact:
Halyard (M&I) Ltd
86 Cobham Road
Ferndown Industrial Estate
Wimborne
Dorset
BH21 7PQ
UK
Email: technical@halyard.eu.com
Tel: +44 (0) 1722 710 922