Ibercisa Deck Machinery has designed and manufactured the towing equipment for the two tugs under construction at Sanmar Shipyards for the Directorate General of Coastal Safety in Turkey.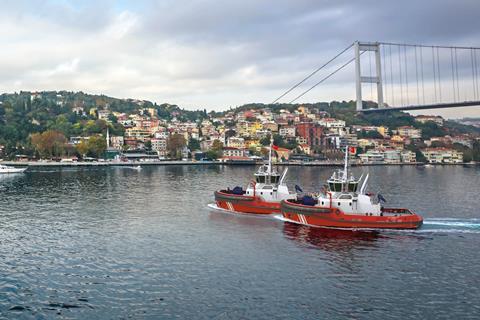 The units are for tug escort and port activities in accordance with coastal safety practices. The winches will be delivered at the beginning of 2021 for installation and trials before the vessels are delivered to the client later on in the year.
The design of these tugboats is based on a successful project for 4 such vessels built by Sanmar for the international tug operator Svitzer and which presently operate in the port terminal of Tanger Med 2 in Morrocco, also with Ibercisa equipment. The tugboats are designed to Robert Allan's RAstar 2900 SX (Sanmar exclusive) specifications with 90 tons bollard pull, 29,4 metres length and 13,3m width.
Sanmar Shipyards and Ibercisa Deck Machinery work hand in hand with the client custom designing each project. In this case, to be able to rely on the TM2 project as a base, eases all the process, both for Ibercisa, designer and manufacturer of deck machinery as well as for Sanmar, the Tug boat builder making for greater efficiency. Also as well as having previous experience, Sanmar Shipyards have been able to rely on full support from Ibercisa to adjust the product to the specific demands of the Turkish State Coastguard. Both parties have worked towards ensuring optimum final solutions in terms of building, start up and operation.
"Its always a pleasure to work with Ibercisa. Its technical alternatives and dynamic attitude facilitate the process for us as the shipbuilder In addition the Company is strengthening its presence and service in Turkey which we also valued when taking our decision", said Hakan Tunc, Purchasing Director at Sanmar Shipyards.
For his part,Miguel Riveiro, in charge of Ibercisa sales in Turkey, explained that this project was very important for the Company. We are very pleased to be able to work once again with such a leading shipyard that is Sanmar in such a demanding field in terms of reliability, efficiency and security as is the world of Tugboats.