How to connect multiple onboard electronic devices to get the data you need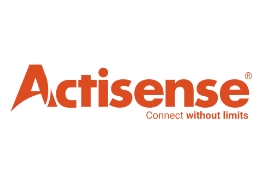 Content from our commercial partners
Find out more
Every vessel's electronics network is unique and is defined by the number of instruments and output devices present onboard. However, common issues and challenges are often present, most notably when trying to protect the electronics equipment and preserving the integrity of the data that is output from the electronic instruments.
One of the UK's leaders in marine electronics connectivity, Actisense, have simplified this process by creating a range of professional NMEA-certified buffers and multiplexers that provide protection for onboard devices thanks to their award-winning ISO-Drive optical isolation technology. The range is Type Approved and offers the ideal solution for larger leisure vessels, workboats and commercial shipping. Most of the range now provides the ability to stream NMEA 0183 data over ethernet, meaning faster data transfer speeds, and the ability to send much larger amounts of data around the vessel. Ethernet connectivity has also allowed a web server to be built into the products to make remote status and management easy.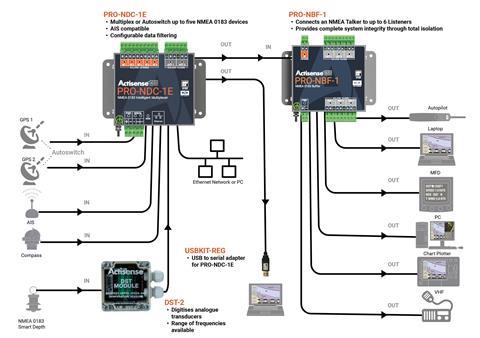 NMEA Buffers
The Actisense range of NMEA buffers can take input data from up to 2 'talker' devices and intelligently share this with up to 12 'listener' devices that require that information. For example, sharing positioning data from a single onboard GPS with multiple devices that require that data, be it a compass, auto-pilot, chartplotter, etc.
NMEA Multiplexers
Conversely, if users have multiple streams of data that they want to combine to share with one or two output devices, Actisense has created a range of NMEA multiplexers that intelligently solves these interconnectivity headaches, including advanced sentence-based routing and blocking, auto-switching, and data rate conversion. This type of data combining is commonly useful when users have multiple transducers and sensors, weather stations, GPS, AIS, and more, and want to share that information to an onboard multi-function display.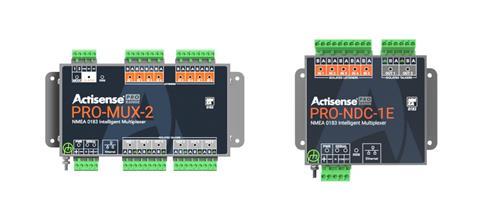 Other key technologies
Of course, not all devices onboard are necessarily NMEA 0183 compatible. Some might use the newer NMEA 2000 protocol, which is why Actisense created their bi-directional NGW-1 converter to seamlessly convert data from one protocol to the other. The company have also previewed their upcoming replacement for the NGW-1, with the introduction of the NGX-1, which will bring together both NMEA 0183 / NMEA 2000 conversion with the addition of a PC interfacing function. This effectively brings together the functions of both their NGW-1 and NGT-1 products, into one neat product.
Actisense's Chief Engineer, Andy Campbell, chairs the NMEA 2000 steering committee and has also been sharing information about the advent of the next exciting development in marine electronics standards: OneNet.
Campbell comments: "Ours is an industry that seldom rests. We have been working closely with the NMEA to define the needs of vessel owners and fleet managers around the globe, and as a business, we are passionate about solving some of the key connectivity challenges faced onboard. We are equally keen to work with other manufacturers who may wish to integrate our technology into their own solutions."
Actisense has spent 25 years creating NMEA connectivity equipment, including engine monitoring units, Wi-Fi gateways, and a full range of NMEA 2000 cables and connectors.
Keep up to date on the Actisense blog and social channels for the latest news from them.
The catalogue can be viewed here: https://actisense.com/catalogue/

For sales enquiries, please contact sales@actisense.com